Summer Study Abroad Programs
Learning Fields of Interest
Short-term studying abroad programs held during summer break. Students study specialized subjects in English at institutions with which ICU maintains student exchange partnerships. Students will be able to earn credits as they deepen their knowledge of the particular country and region. Under this program, students may also learn a second foreign language such as Chinese, German and Korean, and other local languages intensively. The duration differs from program to program, ranging from two to ten weeks. All programs are held in an international environment in which not only students but also professors gather from countries around the world. Many participants of the Summer Study Abroad Programs later opt for long-term overseas studies.
In 2018, students may apply to participate in a program held in Hong Kong, Indonesia, Korea, Canada, the U.S., Denmark, Germany, Sweden, or U.K. All the programs offer courses which reflect local/regional characteristics as well as specialized courses of various fields.
Schedule
Expenses
300, 000 yen to 1, 000, 000 yen (depending on the destination or housing expenses, etc.)
Program fees, travel expenses, housing, overseas travel insurance, visa fees, living expenses, and personal travel expenses, etc.
Voices
AY 2019 participant, Sakura Tanaka
Destination: Linnaeus University (Sweden)
After entering ICU, as I deepened my knowledge in gender, welfare, and life-work balance, I came to be interested in the media's influences on the molding of one's gender conception. While studying in Sweden, as taking media study courses, I aimed to learn Swedish people's sense of gender and welfare through observing their daily lives. Although it was only five weeks of stay, I learned a lot of things that could not be found in papers or data about gender and welfare. Also, it was very beneficial to hear people's raw voices through interviews and daily conversations.
In this opportunity to study in Sweden, I could not only improve my English skills and learned in lectures but also connected and built relationships with people from various countries. It was an experience that literally "expanded my world," which helped me grow and mature as a human being. Through the effort to understand people of different backgrounds from mine, I became able to break my mold, broaden my horizons, and recognize our differences. And I think, in this study abroad experience, I could acquire an attitude to find the common grounds, when coming into contact with a person of a different culture, as the same human being.
2019 CIEE Summer Program, Tsubasa Takayama
Destination: Sustainability in Monteverde (Costa Rica)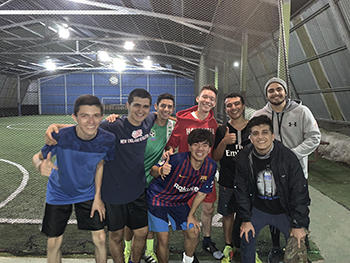 In Costa Rica, the environmentally-advanced country, I mainly studied the high-quality environmental policies that Costa Rica incorporates and Spanish, the country's official language. Besides, I could learn a lot about the people's national character of loving peace, and also about the society itself.
Costa Rica is well known as the world's first country to discard the military forces. While other countries have been spending money on strengthening the military buildup, Costa Rica has invested in social welfare, education, medical care, and environmental conservation. Costa Rica covers the whole nation's electrical power demand by sustainable clean energy. Although the size of the country and the population vary, not only Japan but also the entire world, I believe, should learn Costa Rica's high educational standard and the way how the country is approaching the issue of environmental conservation.
After coming back home, impressed by Costa Rica's excellent environmental policies, I changed my mind and decided to major in developmental studies instead of environmental research, which I had initially been planning to major at ICU. I came to have a dream for the future to work in a job that deals with helping developing countries. Although it was a short summer program for just one month, I could learn so much and had precious experiences, definitely more valuable for an ordinary one month's stay.
AY 2018 participant, Yuki Higashi
Destination: University of Pennsylvania (USA)
I enrolled in three business-related courses in the summer study abroad program at the University of Pennsylvania. One of the things that I learned in the program was to compare the marketing mix with a focus on the fast fashion industry. Through activities like this, I was able to learn about the methods used to analyze companies and markets. In addition, during the program, I was able to learn about ways of holding meetings, negotiation skills, and ways of writing emails that are effective for a businessperson. We did a lot of fieldwork in the program, which included visits to ZARA and UNIQLO stores. For example, through interviews with Uber drivers, we were also able to learn about the actual state of the gig economy, which was very interesting. Furthermore, I was very much stimulated by numerous opportunities to attend lectures on global marketing strategy or leadership given by professors from Wharton School, one of the world's top business schools. Outside of class there were Independence Day, Major League Baseball match, a day trip to Washington, D.C., etc., and I was able to enjoy my time.
This was the first time that I have traveled to an English-speaking country or lived in a residence hall. Although it was challenging, I was able to interact with my roommates, who were from Taiwan and Norway, and interact with my classmates, who had different values and were from different backgrounds, such as Spain, Portugal, and China. I met great people and each day was truly fruitful and fun.
It is my hope that those who are considering participating in a summer study abroad program will take it to the next step by, for example, finding a program that is suitable for them and studying abroad as an exchange student.
AY 2018 participant, Kanako Ueda
Destination: Freie Universität Berlin (Germany)
I enrolled in history courses at Freie Universität Berlin, which was my host university for summer study abroad, and studied how Hitler's Nazi regime gained in power following World War I as well as the path that Germany took under the Nazi regime covering the period up to after the end of World War II. Classes at FUBiS (International Summer and Winter University) were advanced in level and completing the assignments and readings was hard work; however, the fact that I was able to attend high-quality classes given by fabulous historians and visit museums and monuments related to themes covered in the lectures with my professor was invaluable to me.
As a student studying history, what impressed me was the fact that, in their function as learning centers, the quality of the museums and monuments situated in the city of Berlin was extremely high and the fact that, from this, I felt strongly that there is something like a sense of obligation on the part of Germany to pass on to future generations the truth about what actually happened in history and interpretations from various perspectives. I would not have been able to make such a discovery had I only went sightseeing or studied in Japan. Therefore, it was really fruitful that I stayed for one month because I could actually go and see for myself whatever I found interesting. In the next stage of my university life and studies, I would like to utilize what I have learned from participating in this program and my experience of living in a residence hall, which has contributed to my personal development. For those who will be going on study abroad, since one month passes by very quickly and you will be in an environment where you will have freedom, I believe that the way to fully harness the advantages that studying at your study abroad destination has to offer will be to keep your eyes open and to actively get involved.
AY 2017 participant, Yukino Watanabe
Destination: University of California, Berkeley (USA)
I wanted to study subjects of interest to me IN English, and so I took classes in environmental science and oceanography.
We did field work once a week in the class "Environmental Earth Science", and so rather than just listening to the lecture, we went outside and touched the soil to learn methods of determining what type of soil it is (for example, is it clay-like or sandy?). This very unique course was fun, but there was a lot of homework, and in addition to the textbook and other reading assignments we had to read a number of essays and articles, and it was very difficult for me. But I was glad that I had the chance to take classes that are not offered at ICU and to learn about different ways to approach the issues and about the thinking of the students I met there who have the same interests as I do.
The "Introduction to Oceanography" class consisted of lectures only. I was very glad to learn about the sea, which I love very much, through the field of oceanography.
While I was studying abroad, I was worried about whether I would earn credits, whether I could keep up, and so on, but it also made me think about my major. But getting good results on tests and in debates gave me confidence. Most of all, the lifelong friendships that I was able to form there are an important memory. It was because of those friends that I was able to get through the difficult courses. There are exceptional students gathered at UC Berkeley, so while studying hard, we would sometimes help one another and have a laugh together. I want to build on this experience to do a long-term study abroad and to move forward in my life at ICU.
AY 2017 participant, Marin Umeda
Destination: The Chinese University of Hong Kong (Hong Kong)
I took advantage of the three-week Chinese language course. This was an intensive course, with five hours of Chinese classes every day for three weeks.
I had already studied Chinese previously, so I was placed into the highest-level class. By being surrounded by students whose Chinese was better than my own and putting myself in situations where I was forced to speak in Chinese, the speed at which I could learn became much faster than when I was studying in Japan. Every day there was some kind of small test like listening, vocabulary, and so on, and you had to make a presentation once a week, so, as the course name implies, it was intensive and the amount of studying was more than what you do in a semester at ICU, but as a result, I was able to make definite advancement in my Chinese.
On Saturdays, when there were no classes, there were university-sponsored trips to Macau and Shenzhen. Out guides for these trips were current and former students of the Chinese University of Hong Kong who volunteered or were doing it as a part-time job. On Sundays, when there were no trips, or in my free time after classes, although I was busy I was able to fully enjoy Hong Kong.
I had daily classes, tests, and homework, and so I was busy every day with studies and having fun, so I had a fantastic time. For me, being able to enjoy the crowded streets, beautiful ocean, mountains, and delicious foods that were all different from Japan, and feeling the Chinese language with my heart and soul for three weeks was a truly priceless experience.