Liberal Arts
Liberal Arts
"Liberal Arts" does not refer to some specific form of knowledge that you can acquire--it means growing and transforming into a new person as you gather new knowledge.
Over your four years here, ICU's Liberal Arts will provide the gateway to the transformative, thrilling experiences of creating a "new you" and discovering others.
"Expanding Potential": Spread the wings of your potential through Liberal Arts
Liberal Arts allows students to gain a broad variety of knowledge in both the humanities and sciences, liberates students to delve deeper into specialized fields, and trains students to think creatively with a solid, extensive grounding in real expertise.
Liberal Arts (ICU)
[From enrollment through the end of year 2]
Students choose a major field of study at the end of their second year, spending their first two years studying the topics that interest them.
[From the beginning of year 3 through graduation]
Students can keep their chosen major or change it--even if that means switching between the humanities to the sciences. That allows students to figure out exactly what suits them and pursue their learning paths accordingly.
Past examples
Psychology -> History
Law -> Physics
Biology -> Psychology
The educational system at most Japanese universities
[From enrollment through the end of year 2]
Learn the basics of the department/faculty you enrolled in.
[From the beginning of year 3 through graduation]
Study a specific field in your department. If you start feeling like you want to study something else, it normally has to be in your faculty--switching to a different faculty is essentially out of the question.
Seven life-changing characteristics
The ICU Liberal Arts has seven defining characteristics.
1
Grow into the people that the world of tomorrow needs
You can find ICU graduates doing amazing things around the world.
The ranks of ICU alumni include Mr. Motohide Yoshikawa, Japan Ambassador to the United Nations, Ms. Kiyoko Ikegami, Director of the United Nations Population Fund, Dr. Hirotaka Takeuchi, Professor at Harvard Business School, Mr. Toshio Arima, former President of Fuji Xerox, Mr. Kazuo Hirai, President and CEO of Sony Corporation, and Dr. Hajime Yano, a specialist on the JAXA Hayabusa team. Many other ICU graduates have also become authors, illustrators, musicians, researchers, business leaders, and journalists, giving the alumni population an extraordinary diversity.
Approximately 90% of all job-seeking ICU graduates secure employment. Overall, around 20% of all graduates--and approximately 70% of all graduates in the sciences--go on to graduate school. Thanks to its small size, ICU can guide students every step of the way as they make decisions on what to do with their futures.
Want to know more?
2
Life-changing encounters await you
"No foreigners at ICU" : Everyone at ICU studies in the same framework; there are no courses that are only for international students. Japanese students and non-Japanese students study together in the same classes and take part in the same clubs and group activities. At ICU, where each academic year comprises just over 600 students, the relationships between students and their peers--as well as students and faculty members--are extremely close and rewarding.
Students also take the lead in managing the student dormitories, where residents with different cultures, customs, and backgrounds live and learn together.
Life-changing encounters--those transformative moments that you have yet to even imagine--await you at ICU.
Want to know more?
3
No need to choose a major before you enroll
Students at ICU do not need to select a major right away when they enroll. Instead, students take General Education courses and foundational courses in a wide variety of fields and then choose a major at the end of their second year.
Under this framework, students can take classes in in over 31 major and minor subject areas from the humanities, natural sciences, and social sciences and discover the fields that they really want to pursue more deeply.
ICU also boasts a system through which faculty and staff members support your academic planning efforts and offer academic advice on taking your studies to the next level.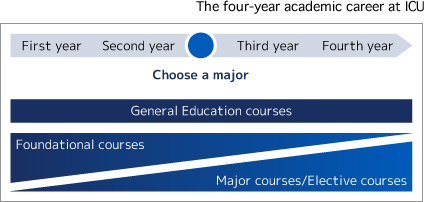 Want to know more?
4
See the world in a different light
The boundless academic freedom that ICU offers will immerse you in the thrills of studying and start you down the path of continuous learning and personal growth.
By learning amidst a highly international faculty and student population, you will also develop an awareness of interpersonal differences and begin to discover new facets of yourself, as well. The process of studying and gaining experience at ICU will give you the ability to cooperate effectively with people from all the different countries, cultures, and value systems of the world.
Want to know more?
5
Learn how to make yourself heard through small-group, participatory classes
ICU classes are small and highly participatory in nature. Taking advantage of the university's remarkable student-to-full-time-faculty ratio of 18 to 1, ICU instructors incorporate a great deal of group work, discussions, and presentations into their classes.
You will develop the ability to write and speak logically--in both Japanese and English--and gain the skills it takes to make your voice heard to the world.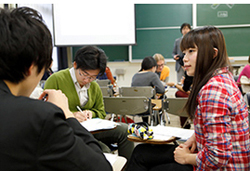 Want to know more?
6
Learn shoulder-to-shoulder with international students
ICU signed an exchange agreement with the University of California (USA) 50 years ago, beginning an international educational exchange program that now includes arrangements with 67 universities in 23 countries worldwide. ICU students abroad take classes with students at their host universities and transfer the credits that they earn toward their ICU record upon returning to Japan.
Another unique option at ICU is its Service Learning program, which lets students earn credits by taking part in social service activities at NGOs and other organizations for 30 days or more during summer vacation.
In 2014, ICU became the only Japanese member university of the Global Liberal Arts Alliance, a partnership of Liberal Arts universities from around the world. In other words, there is only one university in Japan that has earned global recognition for its Liberal Arts--and that university is ICU.
Want to know more?
7
A sprawling green campus
The "Mitaka Forest": that's what some people call ICU, whose 620,000-square-meter campus is even bigger than Tokyo Disney Land.
On balmy days, some classes head outside to gather on the grass and spend their time contemplating ideas under the sun.
The unrestrained environment of the ICU campus is yet another factor that liberates students to think about things freely and openly.
Want to know more?
Famous products of Liberal Arts
The Liberal Arts have provided a wide array of people with a foundation for changing the world. Here is what two of them had to say about their educational experiences.
Albert Einstein (theoretical physicist)
"The value of an education in a Liberal Arts college is not the learning of many facts but the training of the mind to think something that cannot be learned from textbooks."
Steve Jobs (founder of Apple Inc. [USA])
"It's in Apple's DNA that technology is not enough," Jobs once said.
"It's technology married with Liberal Arts, married with the humanities, that yields us the result that makes our heart sing."
"We think we have the right architecture (rooted in technology married with Liberal Arts and the humanities) not just in silicon, but also in the organization, to build these kinds of products."
From the keynote address at Apple's Special Event on March 2, 2011