NEWS
NEWS
Students Presented at the Educational Technology Conference
Update:February.21.2014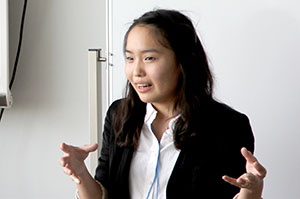 Kanda University of International Studies (KUIS), in association with Apple Distinguished Educators, ran an educational technology conference called "Paperless: Innovation & technology in education"
at KUIS's Chiba campus on Saturday, February 1, 2014. Professor Robert (Rab) Paterson and three of his ARW1 students from the 2013 freshmen intake, Yuka Kristi Johnson Nomura, Shiho Takahashi and Joki Kano delivered the major part of a 30-minute presentation entitled "EMP: Educational Multimedia Projects" that was very well received by the audience – indeed their session had a full house with 30 attendees present, with some forced to stand at the back as the room was full.
Robert (Rab) started by giving a very brief 10-minute overview of the theory behind his approach to multimedia projects and integrating technology into the classroom. Then the session went into high gear as Nomura started by explaining her reactions to learning from, and with, technology in this project, and how it changed her overall learning style. She covered this well by using a few amusing anecdotes that resulted in spontaneous laughter from the audience. Next up was Takahashi who told the audience how the usage of technology deepened her understanding of the concepts of referencing in academic work. She briefly showed Zotero, an open source reference management and citation app, and how she used it in her academic essay work for the class projects. Last up was Kano who illustrated how the modern "mash-up culture" prevalent in today's creative younger generation did not preclude inclusion in academic work. He explained how the three students' topics pop music culture, traditional Japanese music, and the corporate influence on the evolution of hip hop music were blended together in their writing assignments and their project website work.
The website they designed and created for the class is Hip To Music and viewers should pay special attention to their introduction video
on the landing page, as it really shows the academic applications of multimedia creation tools and the modern mash-up culture. When this video was played at the end of the presentation the audience reaction was fantastic, and the ensuing applause was very well deserved.