The information on this page is as of 2016.
International Service Learning
Serving the people in the global community
Service Learning provides students with an opportunity to apply their classroom learning to communities, and to gain experiential knowledge through interacting with people. ICU has formed a collaborative network of the International Service Learning programs with a number of partner universities and institutions in Asia, such as China, Korea, India and Southeast Asian countries. "Service" can take place in a variety of NGOs, NPOs, and public institutions in local communities. Students can also explore new service sites that meet their interests. Working in development, education, health service and social welfare, each student can pursue his or her interests in the global field.
Number of Participants by academic year
| Program | 2014 | 2013 | 2012 |
| --- | --- | --- | --- |
| International Service Learning | 54 | 42 | 36 |
Overseas Teaching Practicum in Japanese
Teaching practice abroad as part of human resource development for Japanese-language education.
The purpose of this program is to promote the Japanese-language education skills for learners of Japanese language. After having taken classes of Teaching Japanese As a Foreign Language at ICU in the spring semester, students carry out teaching practice in schools in the Melbourne area for three weeks during the summer break. Students who complete the lectures and teaching practice can acquire credits at ICU.
Number of Participants by academic year
| Program | 2015 | 2014 | 2013 |
| --- | --- | --- | --- |
| Overseas Teaching Practicum in Japanese | 6 | 5 | 5 |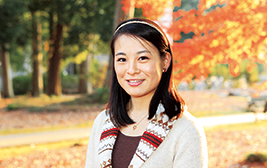 Miki Iemura
College of Liberal Arts, third year (at the time of interview)
University of Sussex on an exchange program in the 2012 academic year.
Learning through Practical Experience
International Service Learning was something I'd been wanting to do since before entering university, and so for that purpose I went to the island of Caohagan in the Philippines. I worked at a library, which had the goal of encouraging children to read, and I also taught Japanese to the local staff at the place where I was staying. I spent six weeks living the self-suffcient lifestyle of the islanders, and every day was full of the kind of learning that you just can't get from academic study. Some things you can understand only after you go to a place and experience them yourself. My experience in the Philippines greatly broadened my outlook, and it was an opportunity for me to deepen my understanding of sustainable development.