Harumi Kodama
Representative, Japanese Representative Office, Asian Development Bank
1992 B.A. in Arts and Sciences (Social Sciences)
1994 M.A. in ICU Graduate School of Public Administration
A tireless devotion to international cooperation
Development assistance on a grand scale
In May 2019, I took up my current post as Representative in the Asian Development Bank's Japanese Representative Office. I had worked at ADB headquarters in Manila for more than 10 years, and prior to that, I had been at New York headquarters of the United Nations Population Fund (UNFPA), so it had been a full 18 years since I had last resided in Japan.
The ADB is a multilateral development bank that provides grants and loans to the governments of developing countries in Asia and the Pacific. The loans are provided at low interest rates, with long repayment periods of 15 to 30 years. The ADB also differs from commercial banks in that it offers technical as well as financial assistance. It provides loans, equities, and guarantees to private businesses as well, injecting its own added value by emphasizing such criteria as development impact.
Many UN agencies such as UNFPA and United Nations Children's Fund (UNICEF) also provide financial assistance to developing countries, but the scale of funding--primarily in the forms of grants--is fairly limited. Multilateral development banks like the ADB and the World Bank, by contrast, can offer funding on a scale many times the size of UN grants--mainly through lending--because they issue bonds to raise capital on the financial market. As a result, they can provide large-scale assistance through, for example,the development of infrastructure at the national level, such as reliable supply of electricity, transportation networks, and the deployment of renewable energy.
As the ADB's representative in Japan, I have two main responsibilities. One is to strengthen the ADB's working relationship with the Japanese government and relevant private and nongovernmental organizations. Another is to raise public awareness of Asia's development challenges and the ADB's role in addressing them. At the time of my appointment, the media introduced me to the public as "the ADB's first female Japanese representative," and I felt a bit conflicted about their focus on gender. But now my attitude is that, if being the first woman in this position helps to raise the ADB's profile, then I may as well take advantage of that to spread the word about the ADB's work.
Pursuing a career around the globe
I was a high school student when I started thinking about pursuing a career in international cooperation. At the American high school I attended in Michigan, there were a lot of students who took an interest in international affairs.It was a kind of place where students would engage in spontaneous discussions about where the Cold War was headed. That environment stimulated my desire to get involved in international work and devote myself to helping the poor in developing countries.
When I entered ICU, it did not have the name recognition among the Japanese public as it does now, but it was certainly well known among those with a serious interest in international cooperation. It had a reputation as the place to go if you were looking for a career in international cooperation, and in fact, many of the Japanese UN employees that I met when I was working for UNFPA were ICU alumni.
During my undergraduate years, my big passion was for Model United Nations. I belonged to the Japan Model UN,where students from various universities came together to role play delegates to the UN and simulate UN committees.I was chosen to join the Japanese delegation to the annual National Model UN conference, which takes place at UN headquarters in New York. Experiences like this strengthened my determination to work for the UN someday.
In terms of academic studies, I focused mainly on international politics and international law. What impressed me most about ICU was the in-depth nature of each class and the passion of my professors. Among the most memorable classes I took were those taught by Professor Toshiki Mogami (now ICU professor emeritus)who was my senior thesis advisor and an expert in international law;(former ICU) Professor Tatsuro Kunugi, who had earlier served as a UN Assistant Secretary-General; (former ICU) Professor Yasuhiro Okudaira, an authority on the Japanese constitution; and (former ICU) Associate Professor Kang Sang-jung. These were classes in which I hung on to every word for 70 minutes straight and felt like thanking the professor afterwards.
I assumed that I would need a master's degree to find employment at an international organization, so I continued my studies in public administration at the ICU Graduate School. I wrote my master's thesis on the outflow of refugees and other types of forced migration. Along the way, an ICU professor introduced me to Akiko Domoto, who was then a member of the Japanese parliament and later served two terms as governor of Chiba Prefecture, and I ended up accepting a position as her legislative aide. Ms. Domoto was working hard to address gender and population issues from an international perspective, and I was extremely interested in her work, which overlapped substantially with my own studies. Thanks to her, I gained valuable experiences in policy making at the national level,as well as at the international level through attendance at numerous UN conferences.
I found these activities highly rewarding, but because I was determined to work full time in international cooperation, I decided to leave my job as a legislative aide and joined the Japanese Organization for International Cooperation in Family Planning (JOICFP), an NGO dedicated to protecting the lives and health of women. I worked mostly in adolescent health and HIV/AIDS education in the Bahamas. During my three years at JOICFP, I had opportunities to work with people at UNFPA, which has close ties with the organization. When a senior UNFPA official asked me to come and work for him, I accepted the invitation without hesitation, as it had been my long term dream to work for the UN.
I was at UNFPA's New York headquarters for close to eight years. My work focused on strengthening collaboration with parliamentarians and NGOs around the world and providing emergency supplies and services to countries affected by conflicts or disasters. I was blessed with opportunities to visit the sites of various aid projects in developing countries in Africa, Latin America, and Asia.
What eventually prompted me to leave UNFPA and join the ADB in 2008 was the birth of my twins. I found it extremely difficult, both time-wise and stamina-wise, to raise two children while working full time in New York City. When I found a job opening at ADB headquarters in Manila, I decided to apply for it, knowing that it was fairly easy to hire live-in help and drivers in the Philippines. I got the job and moved to Manila, which, for 10 years,allowed me to focus on work while raising two children.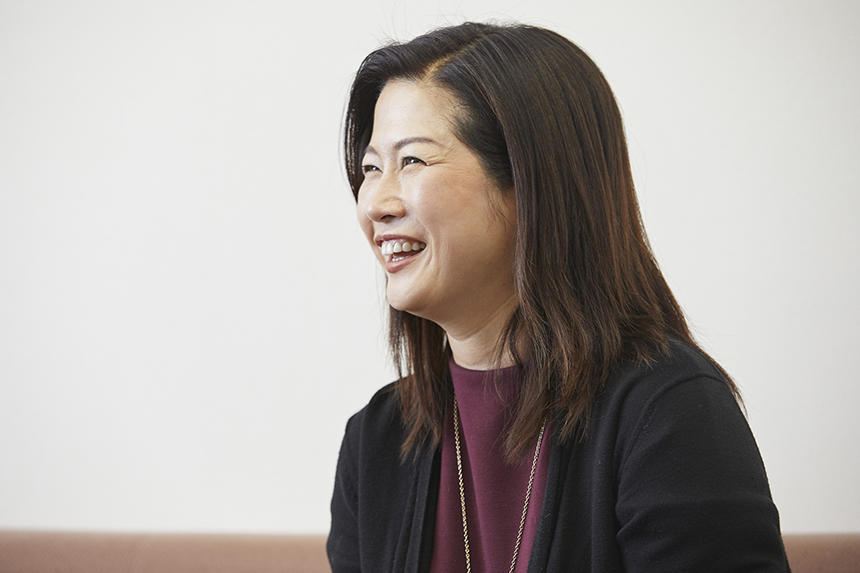 A Japan that can assert itself in the global arena
Working in an international organization, I have become keenly aware that Japan lags behind other developed countries in many respects. Statistics from various credible sources are not very encouraging for Japan, indicating worsening situation on gender equality, lack of appeal to foreigners as a place to live, declining international competitiveness, difficulty in starting a business, and low labor productivity, among other examples. One cannot avoid the impression that Japan's international stature is weakening. The first thing we need to do is recognize this situation and have a sense of urgency.
In my view, the key to breaking this deadlock is the reform of the education system. Learning real English (and not just textbook English) and fostering an international perspective is a prerequisite, but more importantly, Japanese people should learn to express themselves better and be more assertive. I often feel that the Japanese are too modest. For example, the ADB offers internships and programs for young professionals, but to participate, one has to compete for a few spots with young people from all over the world. Japanese nationals have not been able to take full advantage of these programs because many are not good at promoting themselves.
I believe that the education and environment at ICU are very helpful for Japanese students to overcome these cultural barriers. Since the time I was a student, ICU has been fostering a culture in which students actively express their own opinions. In class, they are encouraged to participate proactively, and not just listen passively. When I spoke at a recent ICU career forum featuring representatives of eight international financial institutions, I was impressed by all the questions and other signs of positive engagement by the students there. I was glad to see that the ICU culture from my time has been successfully passed on to the current generation. The large number of Japanese returnees and international students at ICU is certainly a plus, but in order to stand on their own in the international arena, students must continue to work on their ability to assert themselves. These days,universities around Japan are working to expand their international enrollment. As one of Japan's long-established international universities, I hope ICU will continue to lead other universities in the country in producing young professionals who are equipped to thrive on the global stage.
Profile
Harumi KodamaRepresentative, Japanese Representative Office, Asian Development Bank
1992 B.A. in Arts and Sciences (Social Sciences)
1994 M.A. in ICU Graduate School of Public Administration
Harumi Kodama obtained both bachelor's and master's degrees from ICU. She served as a legislative aide to a member of the Japanese parliament before joining the Japanese Organization for International Cooperation in Family Planning (JOICFP) in 1998. Beginning in 2001, she worked at the United Nations Population Fund (UNFPA) headquarters in New York, helping to strengthen partnerships with parliamentary groups and NGOs worldwide and supporting UNFPA's emergency humanitarian assistance. In 2008, she joined the Asian Development Bank, working at its Manila headquarters as head of the media relations team and principal planning and policy specialist before assuming her current position in May 2019.