Round-Table Talk with ICU Alumni Working for Google Japan LLC (1/2)

Momoko Fukuyo
Division of Arts and Sciences in the College of Liberal Arts (Class of 2015), Majors in Psychology and Biology
Mark Ryo Shillaw
Division of Arts and Sciences in the College of Liberal Arts (Class of 2015), Major in Politics
Earned Master's Degree in International Politics Security Studies from Aberystwyth University, UK, in 2016
Mauricio Jose Carlos Guerrero
Division of Arts and Sciences in the College of Liberal Arts (Class of 2016), Major in Global Studies
With its Internet-based services and products, Google has been providing the world with one innovation after another. Three alumni who, immediately after graduation joined this global corporation, which continues to lead the IT scene, sat down to speak with us about the skills they fostered at ICU and are putting to good use in their current work.
"Think Outside the Box" - Skills Cultivated at ICU Lead to Innovation
Drawn to High Degree of Freedom Not Found at Other Universities
- Could you tell us why you chose ICU?
Fukuyo: I spent the three years of high school in Canada and then went to Toronto University. But one year after entering the university, I had to return to Japan. So, I transferred to ICU in my second year. As I had always considered going to a university in Japan, I already knew about ICU, and the atmosphere there struck me as being close to that of universities overseas.
Guerrero: I was drawn to the image that ICU has of placing more emphasis on learning compared with other universities. My thinking was that a university should be a place that advocates "freedom to learn," and among the many universities that I looked into, ICU had as its premise "steadfast learning" and offered a very wide range of choices for learning. Typical of this policy is the absence of the necessity to commit to a field to major in at the time of enrollment. I had passed the entrance exam of another university as well, and I had a very difficult time deciding where to enroll, but in the end, I chose ICU because of the high degree of freedom it offered.
Shillaw: I, too, was attracted to the absence of the necessity to choose a field to major in at the time of enrollment. And another reason that I applied for admission to ICU was for its research into issues related to human rights and peace, for which ICU is well known. My father is English and my mother is Korean, but as I was born in Japan, my mother tongue is Japanese. Against this background, I often wondered about my identity, and I would ask myself, "What nationality am I?" and "What exactly am I?" I believe it was experiences like this that led me to want to do research into issues related to human rights and peace at ICU.
Difficulties Arising from Freedom and a Widening World
- What was your impression after enrolling at ICU?
Guerrero: From the point of freedom to learn, studying at ICU was just as appealing as I had envisioned before I enrolled. However, I felt that I did not really understand the difficulties that came with that freedom, as it meant I had to think for myself and make choices myself. Time and again, I attended a class because I initially thought it sounded interesting, only to find that it actually had little to do with the research I wanted to do. So I made it a point to drop by the offices of the professors teaching every class that I was interested in and asked the professor beforehand about what was being taught in that class, and then I would decide whether or not to register for the class.
Shillaw: I think having a bitter experience resulting from this freedom is something that is shared by every student who has attended ICU. After enrolling at ICU, I had more time to do what I wanted and spent quite a bit of time working part-time jobs, but one day, I began to wonder, "In my life at college so far, what have I gained?" And from that moment on, I made a change and made an effort to take learning seriously, went abroad to study, and set myself a goal of going on to graduate school. I think that it was because of the freedom I had that I understood the need for self-discipline and I was able to feel how difficult it was to have self-discipline, and this was a very valuable experience for me.
Guerrero: On the other hand, I think you could say that it is being able to study whatever you have an interest in and broadening your knowledge that is the merit of a liberal arts education. Many of friends wrote their senior thesis about a field that was different from what they were thinking of majoring in when they first enrolled, and there's nothing surprising about that at ICU.
Fukuyo: I am one of those students whose life was changed significantly by attending ICU. When I first returned to Japan from Canada, I majored in biology with the aim of becoming a doctor in the future, and I was looking to transfer to a medical school. However, through my experiences with a liberal arts education at ICU, I began to question whether I was really interested in medicine. If you find yourself in such a situation, I think ICU is the only university where you can reassess your interests by taking classes in other fields. In the end, I did not pursue studies in medicine, and instead, I engaged in job hunting and became an employee at Google, where I now enjoy a fulfilling life every day. I firmly believe that it is because I had the opportunity to have my eyes opened to other worlds that I am the person I am today.
Guerrero: At ICU, there were a great many opportunities to become aware of things; not only in class but also in day-to-day life. As ICU does not have a large number of students, there is an environment where almost all of the students are friends of friends. When talking with friends in places like the lounge of the classroom buildings or the Dining Hall, it was not unusual for a friend of a friend who was walking by to stop and join in our conversation. The conversation would then broaden naturally, and we would talk about things that interested us and what kind of classes we were taking. And during such candid conversations with classmates, it was quite common for the talk to touch upon things about which I had no knowledge whatsoever or for me to unexpectedly get hints for the direction I was heading.
Fukuyo: I think another distinctive feature of students at ICU is that they actively engage in activities outside the university. I took the initiative to take part in internships, but I started most of the activities because of connections with friends or other similar reasons. I believe the wide range of activities that I took part in outside the university greatly influenced the path I have chosen to follow.
Shillaw: Even if the field you ultimately specialize in remains unchanged from the field you were thinking of majoring in when you enrolled, I think what you choose to put emphasis on in your studies or the perspective from which you carry out the research may undergo some change. In my case, although I wanted to study about human rights and identity, I didn't have much knowledge about them at the time I enrolled. I was aware of the Universal Declaration of Human Rights, which had been adopted by the United Nations, but I didn't really know much else. In the course of studying at ICU, however, I realized that identity was deeply related to such factors as regional characteristics and the era, so I was subsequently able to deepen my studies from a different perspective.
Critical Perspective Cultivated in a Liberal Arts Education
- Among the skills you cultivated at ICU, which are you putting to use in your work now?
Guerrero: I feel that my four years at ICU allowed me to cultivate my interests and values; in other words, it was a time when I was able to refine "my individuality." I had always liked learning and had such a strong appetite for knowledge that I would read my textbooks further and further ahead of the lessons. Therefore, all the way until I graduated from high school, I felt like I was just sitting in the classroom vaguely listening to the lessons, and I sometimes felt out of place, thinking to myself, "Do I really need to be here?" However, in the classrooms at ICU, I recall being exposed to so many things I didn't know, and every day was stimulating and comforting because I was always discussing things with classmates. ICU was the first place where I felt I truly wanted to be.
Shillaw: Taking a critical view of commonly accepted theories and the like, and engaging in dialogues to find new directions were everyday occurrences at ICU, just as they are at work. It feels to me like the critical thinking I do time and again every day now is unchanged from when I was at ICU. From the very beginning, I had been brought up listening to my father tell me to cultivate an eye that is capable of looking critically at things. Early on, in part because I was going through a rebellious period, I let what my father told me go in one ear and out the other. However, after attending a number of classes at the university, I gradually came to understand the importance of what he had been telling me about developing a critical eye.
Fukuyo: I, too, feel that learning the approach of critical thinking at the university was significant. Although I had heard the term "critical thinking" itself when I was in high school, actually experiencing this way of thinking on a day-to-day basis at ICU helped me become able to think more deeply. Furthermore, through a liberal arts education, I was able to learn things I had not known and speak with people in fields I had not known, and I am now putting those experiences to good use. In order to create innovation, it is essential that you continuously broaden your abilities with a "thinking outside the box" mindset. I think it is because this culture is deeply ingrained in me that I am able to broaden my own horizons through discussions with people who are engaged in projects that are completely different from mine.
Shillaw: Over the course of the four years I studied the liberal arts, I feel my curiosity became much stronger. As a result, I feel my passion now for "learning" far surpasses what it was when I was at the university. This is because I was able to experience a wide variety of fields, and I became aware of unexpected connections between things, and how fascinating those connections were. Reading a book on economics would lead me to international law or theories of money and banking, and I would begin studying those matters. Right now, an unexpected turn of events has led me to start studying about wines.
【The second half of the interview will be posted on March 6, 2018.】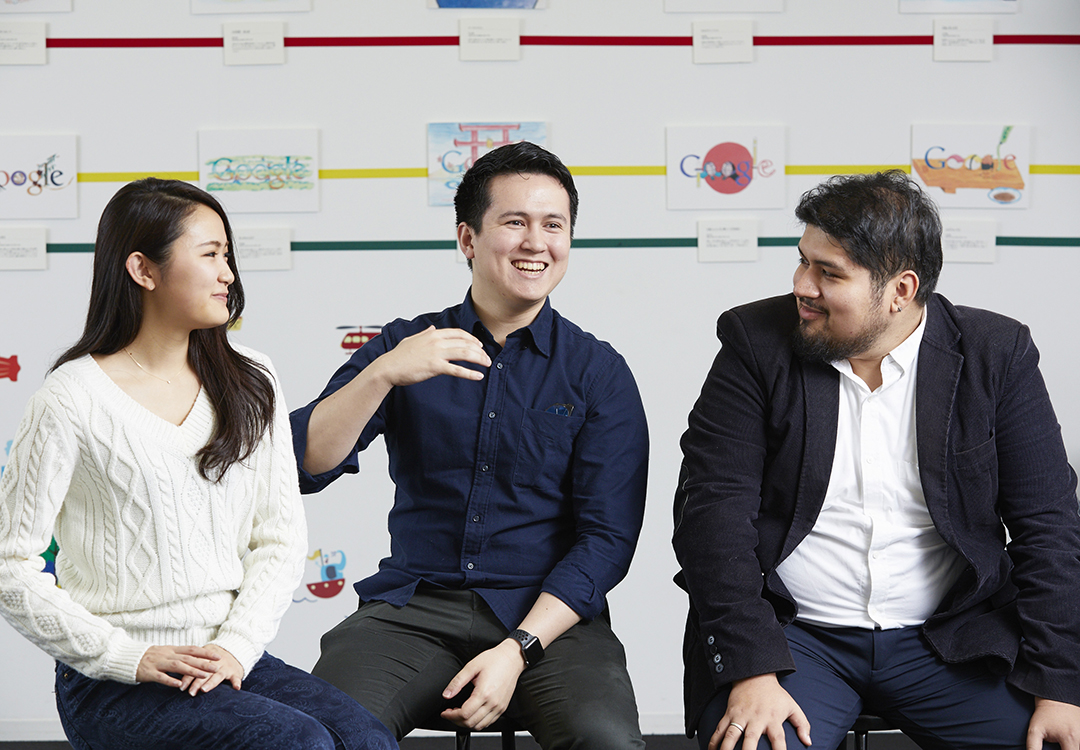 Profile
Momoko Fukuyo
Majors in Psychology and Biology
Graduated from Cobequid Educational Center (Canada).
She was in Canada for the three years of high school to study language. Following graduation from high school, she enrolled at Toronto University in September 2011 with the aim of having a career in medicine. Subsequently, due to family issues, she had to return to Japan. She transferred to ICU in September 2012. She graduated with a double major in psychology and biology, writing her senior thesis on the state of brain activity when processing a second language.
Mark Ryo Shillaw
Major in Politics
Graduated from Nanzan Kokusai Senior High School (Aichi Prefecture).
His father is English and his mother is Korean, and he was educated in the Japanese school system. He passed the ICU Special Admissions and enrolled in College of Liberal Arts in April 2011. While he was at ICU, he was active as a student peer advisor (ICU Brothers and Sisters: IBS), providing registration advice to students. He wrote his senior thesis on copenhagen school and welsh school: logical development of discourse of security.
Mauricio Jose Carlos Guerrero
Major in Global Studies
Graduated from Shizuoka Prefecture Mishima Minami High School (Shizuoka Prefecture).
Both of his parents are Peruvian. He was born in Peru and educated in the Japanese school system. Passing the general entrance examination for admission to ICU, he enrolled in College of Liberal Arts in April 2012. In addition to his academic work as a student, he was active as a youth member of the global nongovernmental organization Plan International. He wrote his senior thesis on media consumption and identities of south americans living in Japan.