A Short Movie Introducing Dorm Life "ICU Notes"
ICU dormitories are a place where students respect human rights and diversity and learn about the sharing and assigning of responsibilities through dialogue while living together in a community. The students produced a short film on the attraction of such dormitories under the supervision of Oriza Hirata (Class of 1986). Hirata also held a series of special seminars (five times) on the theory of drama to coincide with the production of the movie.

Hirata produces a short film about dorms together with students following a series of five seminars on drama theory.
ICU alumnus
Playwright and director
Oriza Hirata
PROFILE
Oriza Hirata graduated from the Humanities Division of the International Christian University's College of Liberal Arts (at the time) in 1986. While still at university, he formed the Seinendan Theater Company. Using the Komaba Agora Theater as the main base of activity, he established a theory on "contemporary colloquial theater," exerting a strong impact on theater since the 1990s. Hirata won the 39th Kishida Kunio Drama Award in 1995 for his play "Tokyo Notes." In 2011, he received the order of arts and letters Chevalier from the French Ministry of Culture. He has served as a research professor of the Center of Innovation (COI) research promotion office at the Tokyo University of the Arts and visiting professor of the Osaka University Center for the Study of Co* Design as well as in other positions.

Dialogues take place when different senses of values and cultural backgrounds cross each other.
One of the purposes of the seminars this time was to help the students understand theater not as a vague idea but as a theory. Hidden behind the plays we casually watch every day are very logical structures. I tried to get the students to understand this and then to think about dialogues including theatrical approaches.
Dialogue touches the very core of ICU and at the same time forms the core of my theory on drama. Conversation is a chat between friendly people, but dialogue means a form of communication between, or among, people with different sets of values. I think we can say that dialogue is a form of communication based on the assumption that each person will "change." Because playwrights can't draw out effective information just from conversations between family members or friends, for instance, they bring in other people to create a structure of dialogue and send information to the audience. In other words, modern theater cannot exist without dialogue.
Physical strength to withstand "troublesomeness" is necessary.
When different sets of values and cultural backgrounds come together, a structure for dialogue is created for the first time. This is also something I learned at ICU where a wide variety of people gather. While I was in college, I belonged to the Mountaineering Club, and I found that many of the mountaineering and club rules had become just customs and lost their real meaning. Japanese students often don't put up any argument against this sort of situation, but international students ask "Why is that?" as if it were the most natural thing in the world.
Back in those days, I thought it was troublesome to answer each one of those questions, but I think it's important to endure that troublesomeness. I call this "the physical strength of dialogue", and I feel that many of the Japanese artists who are working overseas often lack this strength. We shouldn't get upset wondering why people don't understand something, or we shouldn't give up trying to make them understand, assuming they won't understand anyway. We can say that those who have the ability to work out conclusions will succeed overseas.
Producing a video showing dialogues based on student ideas
Now, let me talk about the short film we have made. A student dorm is a place where an especially large number of dialogues are born. I held the seminars so the students would be aware of this when they made the video.
I have a similar experience myself because I lived in a dorm for one year while studying in South Korea, but whenever people with different backgrounds get together, there's often a gap in the context in the language they use. When we assume that others are speaking in the same context and acting in the same way as we do, inconsistencies are likely to crop up. It's important to try to sort them out patiently.
Hoping students will meet more strangers, face more diversity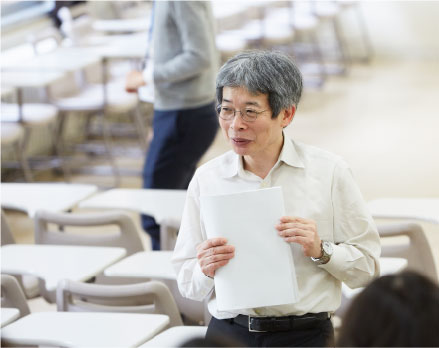 In the completed film, we included a scene of dialogue in the dorm based on ideas from the students who participated in the seminars. The scene shows realistically what kind of a learning community ICU has created and what kind of dialogue is taking place.
I hear that the new dorms will also bring together commuting students, faculty members as well as local residents, so I think more intense dialogues will be born. Diversity doesn't just mean that people of different nationalities come together. I hope the students will meet many different kinds of people in their dorms. Experiencing again and again the feeling of frustration and the inability to tell others what you really want to say should lead to truly global communication.
Learning the structure of plays, how to write scripts and produce films. Producing films in groups
In producing the short films about the student dorms, a series of five seminars were held by Oriza Hirata, a playwright and director who is also an ICU alumnus. On the basis of outstanding works produced by the students in the seminars, Hirata brushed up the scripts and the films were shot.
First Seminar
June 3, 2016
Understanding the structure of plays and setting space, background and issue
A lecture was held on the fundamental structure of plays, which is different from that of television dramas and novels, and on the "place, background and issue" that first need to be worked out in writing plays. The necessity to bring out issues that are more likely to produce dialogues in plays was also considered while touching on the differences between conversation and dialogue and between Japanese and European cultures that lie behind dialogue.
Student comment

I found it interesting that we can make dialogues flow naturally by changing the proportion of "inside" and "outside" people in a play and by considering the amount of information and the role for each character. The seminar made it easy to understand how important it is to choose characters carefully in moving the scenes along.
Second Seminar
June 10, 2016
What are the points to be considered in deciding on characters?
Following comments on previous seminar assignments about the setting of the "place, background and issue" submitted by each student, a lecture was held on "how to decide on characters." Specific methods were considered. It was pointed out, for instance, that characters on the "inside" and those on the "outside" who bring out an issue are needed and that it is possible to avoid explanatory dialogues by allowing each of the characters to have different amounts of information.Following comments on previous seminar assignments about the setting of the "place, background and issue" submitted by each student, a lecture was held on "how to decide on characters." Specific methods were considered. It was pointed out, for instance, that characters on the "inside" and those on the "outside" who bring out an issue are needed and that it is possible to avoid explanatory dialogues by allowing each of the characters to have different amounts of information.
Student comment

I found it interesting that we can make dialogues flow naturally by changing the proportion of "inside" and "outside" people in a play and by considering the amount of information and the role for each character. The seminar made it easy to understand how important it is to choose characters carefully in moving the scenes along.
Third Seminar
June 27, 2016
Considering plots and episodes while being conscious of audience
The third seminar was designed to help the students to create plots and write in episodes based on these plots. The lecture focused on how to decide when characters enter and exit in a play and the timing of their entrances and exits as well as what they say in each scene. A workshop was also held in which the students took turns reading the lines and acting in order to understand the importance of spacing the lines.
Student comment

Watching the play, I was surprised to find that lines create totally different worlds depending on the way they are read and on the speed with which they are read. I also discovered that there is significance in the way of creating spaces between the lines. The lecture made me feel the greatness of a pro who writes and direct plays even taking the imagination of an audience into account.
Fourth Seminar
July 7, 2016
Each group reworks its script based on Hirata's advice.
After discussions in the preceding seminars, Hirata checked the script of the short film each group had prepared. The groups brought their scripts into a sharper focus on his advice. Many of them appeared to find it difficult to get their scripts right, even when they understood theoretically how to write them.
Student comment

I thought I understood what we were taught in the seminars, but it is a different story when it comes to actually creating a plot. We sometimes made it too simple or packed too much into it. We concentrated our attention on how the story should develop forgetting, meanwhile, what the audience would think. That is where I think we should improve.
Fifth Seminar
July 20, 2016
Learning about film production with movie director Koji Fukada
In the final seminar, Koji Fukada, a movie director who is a member of the Hirata-led Seinendan theater company and who won the Jury Prize in the Un Certain Regard division of the 2016 Cannes Film Festival, talked about film production. After tracing the history of films and videos, he discussed effective composition and various camera techniques that were easy to understand even for beginners.
Student comment

In addition to what we had studied in the prior seminars, I learned in this lecture a movie director's perspective. I think I got hints on film production in ways I hadn't thought of before. I also discovered the importance of information selection - which information to include and which information to discard.
Auditions and shooting
November 30, 2016 / December 12, 2016
Students go through auditions and shoot the short film
Oriza Hirata polished up the script based on the most outstanding work the students had prepared as an assignment during the summer break. The students for the cast were selected in auditions. On the day when the film was to be shot, the first-floor lounge of the Ginkgo Dormitory looked and sounded like a real movie studio. Keisuke Shibata, who directed the movie, gave advice to the students on acting, creating a more real everyday dorm life. Be sure to watch the movie that Oriza Hirata, the filming crew and the participating students joined hands together to produce!
What Oriza Hirata taught us
Presented here are views and opinions of the students who wrote the scripts and produced the films on what they discovered and how they changed as a result of the seminars.
---
I wanted to tell many people about the attraction of studentdorms I experienced
Yuka, Suto
4th year student
Major: Literature
I lived in dorms for six years while I was in junior and senior high school, and I have always felt that videos introducing university dorms, by and large, have a lot to be desired. Dorms are great not only because they are safe and convenient. It is also because we can find what kind of people the students we meet in class really are. And it is also because we can meet people who are not stereotypically so-called "good" students but who lead lives that are uniquely their own. I thought the seminars gave me an opportunity to give shape to the real attraction of the dorms I had experienced and to tell others all about it.
I wrote the script recalling the dorms where I have spent my student life and hoping that those trying to get into ICU will feel that this university is different from others in the way it introduces its dorms. I have always been writing scripts and novels, but learning Mr. Hirata's unique method was an eye opener that changed my perspective. The way he decides on his characters and plot at the beginning as well as the way he develops the individuality of each character were especially helpful. I believe that learning another person's creative technique, coupled with my own, gave great more depth to our work.
---
What it means to really understand other people
Satoru Tamura
First year, College of Liberal Arts,
Major: undecided
I found the theory of drama in the seminar very interesting. I discovered that there are objective and easy-to-understand standards for writing good scripts, such as considering people in a plot not so much from the standpoint of character as from that of function (what kind of information they have) and keeping the audience from losing interest by doling out information little by little and broadening or narrowing their imagination.
Mr. Hirata often talked about dialogue, and I thought the one between the wife of the seriously ill husband and his doctor was especially memorable. To the wife who repeatedly asks, "Does this medicine really work?" a nurse explains its effect each time. But when she asks the doctor the same question, his response is, "I understand how you feel," and she bursts out crying. What the wife is really seeking is not a medical explanation but empathy for her black despair. This is an episode that those confident enough to think they have little trouble creating dialogues should keep in mind. There are cases where even the person who is talking doesn't know, deep inside, what he or she is seeking. The seminar inspired me to try to become the kind of person who can understand what others are really trying to say, who can catch the implied meaning of what they are saying.
---
I learned not only how to produce plays but gained an opportunity to think what dialogue is all about
Akane, Irie
1styear student
Major: undecided
Ihave always been interested in making videos, and I took part in the seminars hoping to learn as much as possible. In the study of how to write captivating scripts, I found it interestingthat it is not that important to consider their end. I thought it innovative when I heard that it is important to come up with a script which makes people want to see the play even when they know full well, as in the case of "Romeo and Juliet," how it ends. It is hard work to write a script, it is true, and we had to make changes over and over again within our group.
I not only learned how to produce plays but also gained many opportunities to seriously consider what our daily conversations are really all about as well as to reflect on our communication abilities. We discovered that a character, whoever he or she may be, is always important and plays a significant role in moving the story along. This also applies to the story of my life. We all grow up under the influence of other people we meet in life. I thought it was great to be able to realize that each person we encounter always means something to us.
---
Many dialogues among group members made me think I would become more serious about how to tell others what I want to say
Marii, Shikano
1st year student
Major: undecided
I came to ICU brimming with hope and ambition to rise up to challenges, whatever they might be, given a chance. I had never been involved in producing plays, but I decided to participate in the seminars thinking they sounded like fun. It was an area I had never had any interest in, and that was all the more reason I found everything Mr. Hirata taught us fresh and whetting my intellectual curiosity. The seminars also gave me a chance to think not only about plays but also about communication itself. We sometimes got together after the seminars and talked about those things.
In working on our script, we had many dialogues among our members and tried to sort out and reconcile the differences in our views and opinions. I learned many things, but what I realize most important is how to tell the audience what we really want to say. Since we can change the way to tellthe audience what we are saying with different means of communication, I thought I would become more serious in my daily life as well about how to tell others what I want to say. Throughout this entire series, I felt it really meaningful to venture into uncharted territory, and I hope to continue to meet many challenges always keeping this attitude in mind.
---
Received profound impression from Oriza Hirata's work I read in high school
Makoto, Fujioka
1st year student
Major: undecided
I decided to take part in the seminar because I had found consolation in Mr. Hirata's work What is the Ability of Communication - From Things We Cannot Interactively Understand* when I was having trouble communicating with others in high school. Another reason was that I had always been interested in movies and Broadway musicals in the first place.
I sat in the seminar looking back on the time in high school when I read his work and fondly remembering the experience. In our daily lives, we often find ourselves relating to other people without realizing it and reconciling our senses of values and concepts with theirs. When I understood this, I thought I had acquired yet another perspective in communication. Dialogue is an interaction between ourselves and others. Even if we try to hold a dialogue alone by ourselves, we cannot. Neither can we harmonize our senses of values with those of others if we just keep telling them only what we think and lose the broadmindedness to listen to them and understand them. Having participated in the seminar, I now hope to better understand other people and what they really mean to say.
*Unofficial translation
---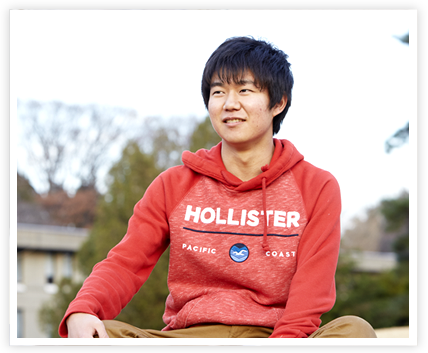 Everything starts from nothing, including things we take for granted
Tomoaki, Saito
1st year student
Major: undecided
My high school teacher had great admiration for Mr. Hirata and I applied for the seminar without hesitation when I found that I would have an opportunity to learn directly from him. I have come to understand, from the perspective of the production staff, the theories and intricate ideas that lie behind the plays I was watching previously without seriously thinking about them, such as "It is necessary to assign a different amount of information to each character." This made it doubly interesting for me to watch plays.
We often struggled writing scripts we had to do as assignments. Parts of it sometimes didn't make sense when we looked at them closely. At other times, they were not very interesting when we read them objectively later. Through this process, however, we found that everything starts from nothing at first, including things we simply take for granted. I hope to take advantage of this experience and learn about many more plays, musicals and movies in the future.
Movie Director
Director
Keisuke Shibata
Keisuke Shibata was born on Feb. 10, 1984, in Shizuoka City, Shizuoka Prefecture. Graduated from the current Japan Institute of the Moving Image,Directing Course. He became an independent film director after participating in the production of movies, TV programs, music videos and commercials as a field staff member. In 2012, Shibata started making movies while still working on the field staff. The second film he directed, "Waltz of the Turtle," (2014) won four awards, including the grand prix and the citizens award, at the 8th Tanabe Benkei Film Festival for the first time in the history of the festival. It also received the grand prix and other awards at other film festivals. The movie premiered at the Theatre Shinjuku in June, 2015. About 900 people watched it over a period of one week.
Students in the cast
As TANAKA

KENYA, KOMAI

First year
Major:Undecided

As JACK

FREDDIE, SAITO

First year
Major: Psychology

As KATO

SATOMI, TANABE

Second year
Major:Undecided

As SASAKI

SHUNSUKE, TOZUKA

Fourth year
Major: Literature

As IKEDA

YUMEKA, NOSAKA

Fourth year
Major: Education

As ANNE

KATHRYN ANN, MURGOLO

Exchange Student