Office of the President
A message from the President
Looking Into "Issues of Living"
International Christian University is Japan's first liberal arts college. It was founded in 1953 based on Christian principles, with the aim of "cultivating capable individuals, educated as internationally minded citizens, who will serve both God and people and who will contribute to lasting peace." At the first matriculation ceremony, held on April 29th of the same year, each student was introduced and, in order to realize the aim and philosophy of the university, students vowed to lead lives that adhered to the principles of the "Universal Declaration of Human Rights."
A cornerstone that sets ICU apart from other universities is the respect paid to each person as a unique individual. This is epitomized by the fact that all students are called individually, by name, at the April and September matriculation ceremonies and at the March and June commencement ceremonies. This tradition has been faithfully upheld since the founding of the university.
ICU offers a fully bilingual education in Japanese and English. The liberal arts education, provided by its undergraduate college, allows students to pursue an in-depth study in any of approximately 30 majors. At the same time, this education highlights the dynamic possibilities that can emerge as students experience areas that transcend and connect academic disciplines. Powered by a commitment to liberal arts education, ICU also offers graduate programs designed to deepen scholarly research. Students work independently, and the role of faculty and staff is to support a process by which students discover their own potential. How this is achieved is through a system of classes with a low student-teacher ratio, classes that prioritize participation and, finally, through the faculty advisory system, office hours and tutorials.
The ICU campus is a place where students, faculty and staff of diverse backgrounds can study and work, in unison and, in such an ambience, there is greater perception and understanding of individual difference. This leads to enhanced self-awareness and the possibility of interpersonal relations.
Another unique aspect of ICU is its tradition of emphasizing interaction throughout the campus community. In addition to the main building where lectures are held, the science building, the library and gymnasium, this verdant 620,000-square-meter campus is also home to student dormitories and faculty and staff residences. Unmistakably, this makes for an environment where students can interact fluently with faculty and staff outside the classroom. This campus, without parallel, was provided to ICU in the wake of the destruction from World War II, through the generous donations of a great many people who supported the university's founding principles.
Hachiro Yuasa (1890-1981), who served as the frst president of ICU, believed Proverbs 29:18 from the King James Bible, "Where there is no vision, the people perish" to be "an important expression in considering our reason for existence and in the realization of an organization's philosophy." President Yuasa asked, "We each of us are given only one opportunity in life. Therefore, with what vision are we going to live that life? Is that not the foremost question with which we proceed through life?" (pp. 34-35, "Visions to the Young," ICU Alumni Association, 1981).
We confront the work of each living day, with a sincere heart, responding to the prayers of the countless people who have sown the seeds of their commitment to ICU over the past 60 years.
Biography
Junko Hibiya, President of International Christian University
Born: 22 October 1957
Education
| | |
| --- | --- |
| 1980 | Sophia University, B.A., French Studies, 1980 |
| 1982 | Sophia University, M.A., Linguistics, 1982 |
| 1988 | University of Pennsylvania, Ph.D., Linguistics, 1988 |
Teaching Positions Held
| | |
| --- | --- |
| 1987-1992 | Assistant Professor, International Center, Keio University |
| 1992-2002 | Associate Professor, International Center, Keio University |
| 1994 | Visiting Associate Professor, Program in Asian Studies, Dartmouth College |
| 2002-2004 | Associate Professor, Division of Languages, International Christian University |
| 2004-2005 | Graduate School of Arts and Sciences, Visiting Professor, East Asia Languages and Cultures, Columbia University |
| 2005-2007 | Professor, Division of Languages, International Christian University |
| 2008-present | Professor, Division of Arts and Sciences, International Christian University |
Administrative Offices Held at International Christian University
| | |
| --- | --- |
| 2002-2004 | Director, Summer Courses in Japanese |
| 2004-2005 | Director, Japanese Language Programs |
| 2005-2006 | Chair, Division of Languages |
| 2006-2012 | Director, Office of Academic Reform |
| 2008-2012 | Vice President for Academic Affairs |
| 2012-present | President |
Membership with Academic Societies
Linguistic Society of Japan, Japanese Association of Sociolinguistic Sciences, Phonetic Society of Japan, Phonological Society of Japan, Society for Teaching Japanese as a Foreign Language
Other Positions Held
| | |
| --- | --- |
| 2012-present | Councilor of the Japan Society for the Promotion of Science |
| 2014-present | Member of the Science Council of Japan (Linguistics/Literature) |
| 2015-present | Member of the Central Council for Education |
President's Vision for Education
In my presidential inauguration address, I expressed my vision and aspirations for ICU: that the university embodies a place where each person's potential is brought to fruition, a university where each person discovers his or her calling, and a university that continues to mature as it pursues its ideals. In order to realize these three visions, I will execute the following plan.
To be a university where each person's potential is brought to fruition;
Evaluation and improvement of academic reform
Improvement of the physical environment for learning, appropriate for ICU's liberal arts education and the provision of security
Inspection and improvement of admissions
Hiring of the faculty who appreciate the mission of ICU as well as their professional development
To be a university where each person discovers his or her calling;
Improvement of communication among the members of the ICU community
Construction of diverse study abroad programs
To be a university that continues to mature as it pursues its ideals
Substantiation of the "Student Pledge"
Strengthening of our financial basis
Administrator Profiles
Vice President for Academic Affairs
MORIMOTO, Anri
Dr. Morimoto received a B.A. from ICU, Th.M. from Tokyo Union Theological Seminary, and Ph.D. in systematic theology from Princeton Theological Seminary. He joined the ICU faculty Humanities Division as associate professor in 1997. After serving as a professor, he was appointed Vice President for Academic Affairs in 2012. He also serves as trustee in the Japan Society of Christian Studies and the Japanese Association for American Studies.
Vice President for International Academic Exchange
WILLIAMS, Mark
Dr.Williams took his BA in Japanese Studies at the University of Oxford and received his Ph.D. in Japanese Literature from the University of California, Berkeley in 1991. He was on the faculty of the University of Leeds from 1988-2017, but between 2011 and 2014, he was seconded to Akita International University, Japan, where he served as Vice President for Academic Affairs. He served as President of the British Association for Japanese Studies between 2008-11. His research has focused on the writings of a series of post-war Japanese Christian authors, most notably those of Endō Shūsaku.
Email: williams[@]icu.ac.jp
Dean of the College of Liberal Arts
MORI, Katsuhiko
Dr. Mori received a B.A. in arts and sciences from Yokohama City University in 1983, an M.A. in international relations from the International University of Japan in 1987, and a Ph.D. in political science from Carleton University in 1994. He began at ICU in 2004 as associate professor, and worked as Associate Dean of the College of Liberal Arts and Director of the Admissions Center. He has been serving as CLA Dean since April 2017. His research and teaching interests include international relations and global governance.
Dean of the Graduate School
KAIZOJI, Taisei
Dr. Kaizoji graduated from Waseda University's School of Commerce and received his PhD from Tokyo Institute of Technology. He also earned units at The University of Tokyo's Graduate School of Economics. He began working at International Christian University as Assistant Professor in 1994, becoming Professor in 2015 and Dean of the Graduate School in 2016. During this period, he was Visiting Professor at University of Kiel and ETH Zurich. A council member of the Society for Economic Science with Heterogeneous Interacting Agents, he specializes in macroeconomics, monetary economics, the economic bubble, and the burst of the economic bubble.
Dean of Students
KATO, Etsuko
Dr. Kato graduated from Keio University with a BA in Linguistic in 1988 and an MA in Linguistics in 1992. In 2001, she received a PhD in Linguistic and Semiotic Anthropology from the University of Toronto and became a postdoctoral researcher at the University of British Columbia. Dr. Kato was appointed Associate Professor at International Christian University in 2002 and Professor in 2015. She served twice as Director of the Center for Gender Studies and assumed the post of Dean of Students in April 2018. Dr. Kato anthropologically researches gender, nationalism, and migration of the Japanese people.
Director, Library
ALBERG, Jeremiah L.
Dr. Alberg did both undergraduate and graduate work in philosophy at St. Louis University in the US. He then studied theology at Sophia University, Tokyo. He did his Ph.D. in philosophy at the University of Munich. Since 2009 he has been professor of philosophy and religion at ICU. He is also the Director of the Center for Teaching and Learning and in charge of the Faculty Development Office. His research focusses on Immanuel Kant.
Director, University Secretariat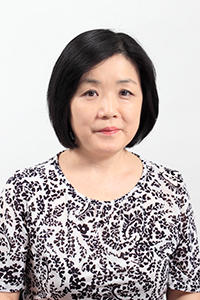 HATAKEYAMA, Tamami
Ms. Hatakeyama received a B.A. from Aoyama Gakuin University, M.A. in library and information science from Keio University. After serving as the acting director of library at ICU for 8 years, she was appointed the director in 2014. Since October 2016, she holds the post of Director, University Secretariat.
Speeches and Articles
This page features a list of the President's messages, addresses, speeches, and appearances in the press.