Voices
Residents Voices
My Time at the Dormitory is a Lifetime Treasure
Name: Tori Honma, 3rd year student of College of Liberal Arts, ICU (at the time of interview)
Admission: September, 2013
High School: Houston High School, Tennessee, US
Dormitory: Third Women's Dormitory
Major: Education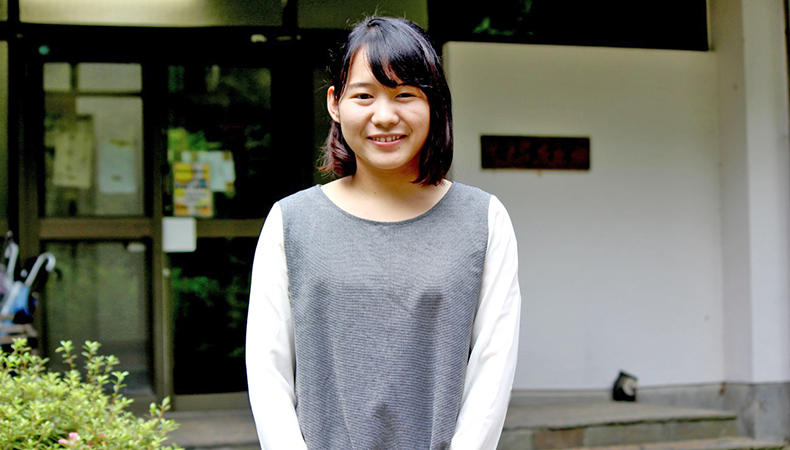 One achievement: communicating and convincing the people around me
I applied for the dormitory because I felt uneasy about living alone. On hearing that the ICU dormitories are places where students with different backgrounds and cultural diversity live together, I instantly thought "this is a chance not to be missed!" I chose the Third Women's Dormitory because it put emphasis on cultural events which sounded very interesting, and also because the dorm fee was lower than the other dorms.
I feel that I have grown personally through my life in the Third Women's Dormitory in two aspects in particular. There are various roles assumed by students in the dormitory, and one that I experienced was the leader of the environmental committee, overseeing matters such as sorting of garbage. I suppose many people have an experience of giving up sorting garbage properly because they didn't know how or because they just didn't bother. The most difficult periods of the year are in June before the dormitory is closed for summer vacation, and in September when international students unfamiliar with the Japanese way of sorting garbage arrive. We created large colorful posters describing garbage separation in both English and Japanese, explained at dormitory meetings how to sort garbage showing actual examples, and also exhibited photos of garbage that was sorted in the wrong way to call for attention. We patiently kept on supporting the residents until everyone got used to the right way. It was arduous work, but I learned a lot from it. I found that just a little ingenuity could make a big difference when seeking cooperation from others and that showing your own strong determination can help obtain support from those around you. What I learned from my role was not just about sorting garbage, but rather it taught me how to communicate and convince the people around me. It was a valuable experience for learning what kind of attitude, words and method are effective in conveying one's thought without causing misunderstanding.
What I learned as Dormitory Representative: perspectives on operating an organization
Another experience that helped me grow significantly was undertaking the role of dormitory representative. At first, I imagined that the duty of dormitory representative was to lead residents as the representative of a dorm, but in fact it mostly consisted of miscellaneous daily tasks, such as requesting the repair of dormitory equipment and taking sick students to the hospital. At times, I wondered why I had to spend so much of my precious time at the university doing these chores. However, I gradually came to realize that these chores were indispensable for the operation of a dormitory as an organization. There are various students living in the dormitory with diverse cultural backgrounds and customs. Naturally, their expectations of dormitory life are also diverse. My role as the representative was to secure a basis on which everyone could spend their time in the dormitory carefree and comfortably.
When running an organization, it is necessary to ensure that each individual member of the organization is happy, while at the same time maintaining an overall perspective in order to manage the organization as a whole. When responding to a problem, it is vital to think first about what impact the problem would have on the dormitory as an organization. At ICU, dormitory residents are responsible for dormitory operation, thus ample discussions must be carried out with other residents on issues such as the budget for dormitory equipment and the dorm management. One person may think that "this is not the right way to deal with the matter," while another may say "this is appropriate." When making a decision, I grew to be able to view the matter from the perspective of managing an organization as a dorm representative, taking into consideration the long-term impact of the decision rather than simply considering whether an idea was right or wrong at that moment. I feel that this was a great achievement for me.
35 residents, 35 different stories
If I were to enter ICU once more, I would definitely choose to live in the Third Women's Dormitory again. I can never talk enough about my memories I have made so far here in the dorm. I think the things I experienced every day in the dormitory will turn into lifelong memories after I graduate. Living in a dorm, you get to know people with whom you would never spontaneously interact through routine classes and club activities: people with entirely different interests and ideas. You will encounter many people who makes you think, "I never thought of that!" or "Wow, this person is really interesting." Moreover, living in a dormitory means becoming part of a community where residents are bound with strong ties. Even after graduation, you feel much closer to other alumni just by mentioning "Oh, I lived in a dorm, too!" The Third Women's Dormitory holds a biennial alumni reunion. A wide range of alumni, from new graduates to those in their 70s, gather from around the globe to meet at the dormitory, renew old friendships, and share their precious memories. I think this goes to show how special and heartwarming place our dormitory is.
If there are 35 students residing in a dormitory, then there will be 35 unique sets of experiences and stories of personal growth. My experience is only one of them. Special experiences are awaiting you; why don't you consider living in an ICU dormitory?
---
Ties that will stay for life beyond generations
Name: Shiho Hatanaka, 3rd year student of College of Liberal Arts, ICU (at the time of interview)
Admission: September, 2013
High school: Cresskill Public Schools, New Jersey, US
Dormitory: Second Women's Dormitory (closed in the end of March 2016)
Major: Media, Communication and Culture
Being dorm representative made me grow as a person
My family home is far from ICU, so I had to either live alone or enter a dormitory in order to attend the university. I was anxious about the idea of living alone in Japan because I had spent much of my life abroad. Meanwhile the dormitory fees were quite reasonable and the fact that they are located on campus was an added attraction, so I applied to live in a dormitory.
Unfortunately, the Second Women's Dormitory, in which I lived, was closed down at the end of March 2016, but the three years I spent in the dorm allowed me to develop as a person through various experiences that I would never have had if I had chosen to live alone or at home.
I think that what you gain through dormitory life depends on how much you get involved in the operation of the dormitory. I served as the chair of the dorm meeting* for one term (6 months) and as the dormitory representative for two terms. I found it particularly challenging to fulfill the responsibilities of dormitory representative, which included handling the various problems that arise in the dorm, directing the Cabinet Members who undertake the operation of the dorm, and sometimes giving warnings to residents while avoiding any emotional complications.
*Dormitory meetings are held once a month to decide on operational policies and confirm the consensus of the dorm residents.
The most valuable thing that I have gained through dormitory life is the capability to operate an organization. The important things in operating the dorm as a representative are to act to make the dorm a better place, and when necessary be ready to take on the role of the villain and tell your friends "you shouldn't do that."
Whenever I noticed that other residents had left dirty plates or other mess behind them, I went ahead and cleaned them up by myself. Those students who saw me doing this began to voluntarily clean the dorm and warn other students to do their duties as well. Also, as the second and third year students assume the central role in the operation of the dorm, there are times when it is necessary to give cautions to fourth year students. Everyone wants to avoid giving candid advice to their seniors, and it was hard for me too at the beginning, but I realized that the dormitory representative must think and act in the interests of the whole dormitory. Ever since, I was able to make myself clear to anyone I was talking to.
Ties of friendship at the Second Women's Dormitory
My best memory of life in the Second Women's Dormitory is the last alumni reunion held before the dormitory was closed. A great number of alumni gathered for this occasion. We listened to their various stories and received advice on life. Although it was my first time to meet many of them, we quickly got acquainted and enjoyed each other's company as if we had known each other for years. This made me realize anew how wonderful the ties built through dorm life are.
Needless to say, life in a dormitory is not always full of fun; it has its hardships too. But when you move out of the dorm in the end, all you can recall are good memories. I truly felt that I loved this dormitory. If I were to enter this university once more, I'm sure I would apply to live in a dorm again. The dormitory is a place where you can grow personally and at the same time build strong connections for life, like those of a family, with people who have diverse perspectives and values.
I encourage you all to live in a dorm. I'm sure you will be able to spend a fulfilling student life and enrich your future.
---
Finding a New Identity Through Dormitory Life
Name: Shota Kurebayashi, 3rd year student, College of Liberal Arts, ICU (at the time of interview)
Admission: September, 2013
High school: The Beacon School, Manhattan, New York City, US
Dormitory: Second Men's Dormitory (at the time of interview)
Major: International Relations (major), Environmental Studies (minor)
Warmth and ties like a family
I decided to enter a dormitory following the recommendation of an old friend who was already an ICU student. I could have chosen to live at my grandparents' house in Tokyo and commute to the university from there, but my friend strongly recommended that I live in a dorm if I was going to study at ICU. I read articles introducing each dorm and decided to enter the Second Men's Dormitory, attracted by the family-like warmth, its long history and above all, a photo of the residents smiling from the bottom of their hearts.
Living in the Second Men's Dormitory until it closed at the end of June 2015, I was always surrounded by warm friendships much like a family. The best memory in my two years of dorm life is the night before the closing of our dorm, when each and every resident got together and talked with one another throughout the night. Everyone poured out their true feelings about the dorm and dorm mates, even things they would usually be too shy to talk about. Many of us were brought to tears facing various realities as well as moved by the thoughts of the dormitory's 60-year history coming to an end and of the separation of our big family of dorm mates. We thought back over the joy we had experienced together and realized anew how lucky we are to have built such strong ties, like those of a family.
How I grew through dormitory life
There are two things that made me feel my personal growth through life in the dormitory.
First, I am no longer afraid of speaking in front of people. I can now convey my thoughts to others with purpose and confidence. Before I entered the dorm, I was not good at talking in front of people and avoided it whenever I could. But in the dorm, we were all obliged to participate in the monthly dormitory meetings where we discussed how to operate the dorm. This meant that I had to express my own opinion in front of others. Eventually, I became more involved and assumed various roles including the "dorm president" (dormitory representative), which provided me with the opportunity to make requests and give directions to my dorm mates and coordinate with other dorms on various matters as well. In time, I found that I had got so used to speaking in front of people. Since ICU is a small university, you get many chances for dialogue with faculty and friends during classes, which also helped. But the kinds of discussions we have in the dorm are directly related to everyday issues and deeply affect the quality of our lives, so I must have learned to be considerate when I talk to others so that they get the messages right.
Secondly, I now try to communicate my ideas to others with respect for values and views that are different to mine. In the dormitory, where about 30 students live under one roof, you meet and converse daily with people who have personalities and habits that may be the opposite to yours, and with whom you may never have make friends if you had not lived together in the dorm. In the beginning, not knowing how to get along with people who have different values and habits from mine, I could not even ask my roommate to clean the room when it was messy.
However, as we exchanged opinions and values with each other in the dorm meetings, I came to appreciate that there are diverse ways of thinking and realized that my habits and views are not always right. Through this experience, I learned to accept others' opinions first, then ask why they think that way, and communicate my own opinion as necessary. I think that the richly diverse environments characteristic of ICU dormitories gave me the opportunity to encounter new values, widen my perspective, and reflect on my way of thinking.
Experience it for your own
I recommend everyone to apply for a dormitory. You will quickly make your first friend in university, meet senior students whom you can really respect, and in a year, find yourself welcoming new incoming students. Dorm mates are like a second family; you can talk about anything together, and sometimes they will even shed tears for you. You will learn to respect other people's values and accept different ways of thinking. You will learn to organize people, take leadership, and communicate your thoughts with confidence in front of an audience. Through dorm life, you will find a new person in yourself and grow to see the world in a different way. Of course, dorm life is always fun, and you will experience hardships too. But I think that stepping out of your comfort zone and living with people who have diverse characters and ways of thinking is the best way to expand your values and perspective.
For me, dormitory life offered abundant opportunities to grow. I hope that newcomers will find something meaningful in dorm life, like I did.
---
Alumni Voices
A place where I met people I may never have become involved with
I remember spending many nights discussing with residents of different backgrounds and mindsets how we could make the dorm a better place to live. We still keep in touch, but many of them are those types of people whom I would not have approached in the classroom. Living in the dorm gave me the opportunity to meet those that I may never have considered becoming involved with, so I am grateful and I hope the new dorm will also be a place for such encounters.
Masakuni Tsuji
2005 Dorm Representative of First Men's Dormitory* (Class of 2007)
Stay foolish in pursuing your interests
I hope that dorm students will continue to respect the diversity among themselves, and also continue to cherish their autonomy in running the dorms. I also hope that the faculty at ICU will continue to recognize that the dorms are an important part of the ICU community. Baka, or being foolish in pursuing one's interest has long been the spirit of 2MD, since long before Steve Jobs' famous speech. I earnestly wish that this baka spirit will continue to be passed down.
Nobuo Sayanagi
1991 President (Dorm Representative) of Second Men's Dormitory* (Class of 1993, Graduate School class of 2007)
The experience of stimulating and associating with each other is an "asset in life"
Canada House prided itself on its incomparable freedom back when I lived there. I hope they continue the dorm events - kilt costumes, Okada Cup football tournament, Hosoki Cup rugby tournament, talent show and so on. The association you establish with others will be a huge asset in your life ahead, so be associated with people, get stimulated and really enjoy the precious experience of living in a dorm.
Tadashi Watanabe
1994 Dorm Representative of Canada House (Class of 1995)
Running a dorm is like participating in "a problem-solving workshop"
From trivial affairs to important issues, matters on dormitory management are discussed at the dormitory meetings attended by all residents. The process of coordinating different ideas to reach an unanimous decision is a wonderful workshop to develop your problem-solving skills. For those of you who are going to start your dorm life, please embrace the difficulties and joy of achieving mutual understanding, learn to accept different values, and witness your own world expand.
Midori Kawamukai
1995 Dorm Representative of First Women's Dormitory* (Class of 1998)
Most of my college memories are the days in the dormitory
The difference between ICU dormitories and other off-campus boarding is not just the cheaper dorm fees (rent). It comes with many new discoveries and learning experience that you gain through various dorm events and interaction with other residents. Being able to live in the natural riches of the ICU campus is also a big bonus. Friends you live with will be like family and dorm life will take up most of your college memories, so do have a great time with your dorm mates.
Maimi Kuniyosi
2011 Dorm Representative of Second Women's Dormitory* (Class of 2013)
I hope dorms will continue to provide moral support to those starting a new life at ICU
Senior residents offered generous support for the new students - they took us shopping and eating, called each other by nicknames to reduce the discomfort of age differences, gave us advice on what classes to take - to help us fit in with the dorm and school. For new students coming to ICU from other cities or countries, the dormitory gives you the reassurance to start your new life. Hopefully the new dorm will have a good common area for residents to interact.
Ai (Yoshida) Sano
2001 Dorm Representative of Third Women's Dormitory (Class of 2003)
You can interact with people beyond generations
A dormitory is a place to live your daily life, but at the same time, it is a place for activity to give shape to various events. The experience of "living together in the same dorm" creates a bond beyond generations. Last May, the students living in Fourth Women's Dormitory hosted the dorm's 50th anniversary party. I think people should be more aware that "living in a dormitory" also creates "vertical connections."
Fumiko (Higashi) Minowa
1998 Dorm Representative of Fourth Women's Dormitory (Class of 2000)
Four rich years spent with students of diverse backgrounds
One of the major features of Global House is that you can immerse yourselves for four years in the diversity of exchange students, April students, September students, boys and girls. From the experience of spending time with students from different backgrounds and influencing each other, I discovered that there is a wide spectrum of values. I hope that the same atmosphere is passed down to the new dormitory.
Naoki Seki
2001 Dorm Representative of Global House (Class of 2004)
It's a "home" where we grow up with friends - be proud of the days you spend there
The dormitories at ICU offers an environment that allows each resident to live proactively, regardless of how long you lived there or of your Japanese/English proficiency. Don't worry if you are the only exchange student in house - all dormitory meetings and announcements are conducted in both Japanese and English. The dorm is a home where we grow up with friends; it is an invaluable treasure in life. Wherever I'd be, I can proudly point at the atlas and declare, "This is my home."
Reina Kikkawa
2013-2014 Community Assistant of Zelkova House (Class of 2015)
Enjoy the "coincidence"
The "coincidence" of coming to live together under the same roof is too good to call it a simple boarding. A dormitory is where you can totally expose yourself and be modest. Those of you who are going to live in the new dormitory should really work to make the place your true home and community. As an old saying goes, "what makes interesting an otherwise boring world and lets you live accordingly is nothing but your own mind."
Rikiya Ukai
2013 Dorm Representative of Ginkgo House (Class of 2014)
New bonds created through freshmen's "initiation"
It took me a while to come to terms with the "initiation" right after arriving at the dorm, but through it we learned each other's names and developed a sense of togetherness, so those memories I am fond of. Living in a dorm was not always a pleasant experience, but I met some of my closest friends there and I think it was what made me who I am today. In an environment where many diverse mindsets clash, you will learn to accept and respect others.
Yuka Fujii
2013 Third Floor Representative of Oak House (Class of 2014)
*First Men's, Second Men's, First Women's, and Second Women's Dormitories have already been closed.