NEWS
ICU student wins the president's award at Maison Franco-Japonaise French language contest
Update: April 18, 2017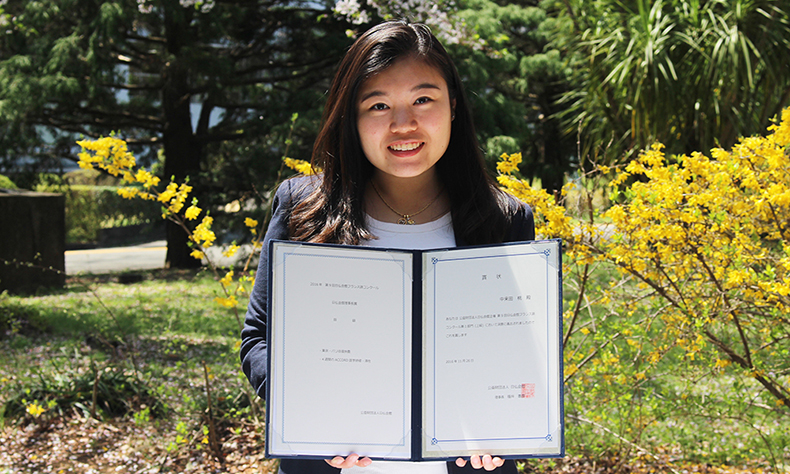 Ms. Momo Nakakita, an ICU student (1st year student at the time), won the prix du President de la Maison Franco-Japonaise (the president's award) at the 9th French-language contest held under the sponsorship of Maison Franco-Japonaise in November, 2016. She was the third ICU student to win the award. The others had seized the top prize at the 5th and 7th contest.
Fifty-three people applied to compete in the latest contest, and 15 of them, including Ms. Nakakita, made it to the final. They chose one of two topics, "Does the progress in scientific technology contribute to the happiness of mankind?" and "What do you think about the proposed revision of the Japanese Constitution?" They each spoke for seven minutes and then answered questions. Ms. Nakakita spoke on "To question and to participate―for the sake of our Constitution."
Ms. Nakakita's comments
I applied just before the deadline. I was really surprised when I was chosen to receive the award because I wasn't studying French for about six months at the time.
In making a speech in French on a difficult topic like the revision of the Constitution, I thought there was "no right answer." That was the key. The process of building my own experiences, ideas and emotions on a piece of blank paper was much like the task of putting my own life together from scratch, one step at a time, that I experienced as an exchange student in France when I was in high school. For this reason, I didn't focus on law or politics but tried instead to make a speech that could create an opportunity to think about the Constitution through experience and humor. I am especially happy that I was able to touch on the importance of dialogue and questioning I learned in the education I received at ICU. In the Q&A, I thought I was able to take advantage of the skill to think logically on my feet that I had gained in the ICU Debating Society.
In the future, I would like to deepen my understanding of the Constitution by taking a variety of classes and reading books. I also can't wait to see the members of my second family (host family) and friends again when I go back to France for four weeks of language study this summer as part of my prize.