Service-Learning
Are you familiar with the term "Service-Learning"?
Does "service" mean volunteering?
Is it an extracurricular program, or is it a social activity to prepare for a career?
Why is it part of the university curriculum at ICU, in the first place?
Service-Learning is an educational platform that provides practical and reciprocal learning opportunities for students. Participants will volunteer in a community service of their choice for a given period. Through the volunteer work, students will have opportunities to apply their on-campus learning to the community, deepen their knowledge and understanding through the community service, and leverage gained insights to advance their academic learning journey further.
Overview of courses related to Service-Learning
ICU offers a year-long curriculum for Service-Learning to ensure that students' service experiences will evolve into meaningful learning. "Introduction to Service-Learning" and "Preparation for Service-Learning Field Study" are courses offered in the spring term. These two courses provide preparation for a 30-day service during the summer recess, and "Reflection on Service Experiences" in the autumn term provides an opportunity to look back on the experience.
The central part of Service-Learning program is the actual service activities during the summer recess. Students enroll in one of two categories: "Community Service-Learning" for domestic and "International Service-Learning" for overseas depending on the service site.
Community Service-Learning
"Community Service-Learning" consists of service activities at an NPO, NGO, local government agency or social welfare institution in Japan. Students are encouraged to choose an organization according to their areas of interest and concern and to negotiate to obtain acceptance into the organization. The selection and negotiation process, as well as the service experience itself , will help students learn more deeply about the local community they live. ICU Service Learning Center (SLC) supports students as necessary throughout this process.Certain organizations have continuously accepted ICU students since the very start of this course.
Schedule

List of partner organizations (AY 2018 results)
※The organization, contents of the activity, period of placement, and a number of participating students may vary from year to year.
Shiraho Coral Village -- WWF Japan Coral Reef Conservation and Research Center (Ishigaki City, Okinawa)
Shiraho Coral Village is a Japanese branch of the World Wide Fund for Nature (WWF), an international environmental conservation organization. WWF Japan has two offices: a headquarter office in Tokyo and a branch office in Ishigaki Island of Okinawa. ICU students visit Shiraho Coral Village - WWF Japan Coral Reef Conservation and Research Center - every year and help with office work, preparation and operation of Shiraho Sunday Market (town revitalization event), and Shiraho Children's Club activities, while staying at a guest house in Shiraho District of Ishigaki Island.
VOICES
Shiraho Coral Village is a part of the Japan Office of the World Wide Fund for Nature (WWF), an international environmental conservation organization. The Japan Office maintains its headquarters in Tokyo and has a branch office on Ishigaki Island of Okinawa. We engaged in various service activities at Shiraho Coral Village - WWF Japan Coral Reef Conservation and Research Center, which locates in Shiraho on Ishigaki Island while staying at a guest house in Shiraho District.
In addition to helping with office work at the Research Center, we lent a hand with the preparation and operation of Shiraho Sunday Market held at the Coral Village, which aims at sustainable local revitalization. We also helped out with the activities of the Shiraho Children's Club, whose members are elementary and junior high school children.
During the July-August period, they have numbers of local annual events and functions in Shiraho District. We participated in some of them as members of Shiraho Coral Village. This experience gave us a sense of inclusiveness, made us closer not only to staffs at Research Center but the local elderly and children. We found the goodness of Shiraho through the people who live there. We learned so much by working at the facility of course, but I believe that the community of Shiraho is what made overall experience very valuable.
Asian Rural Institute--Rural leaders Training Center-- (Nasushiobara City, Tochigi)
Asian Rural Institute is an international training center that brings together people who are engaged in rural development from Asia, Africa, and the Pacific regions to train leaders of rural communities. Not only trainees but many volunteers from Japan and abroad gather at the institute, where people of various races, nationalities, religions, customs, and values live together respecting each other's differences. Service-learning students engage in farming and learn about food, development of advancing countries and agriculture while staying in a dormitory with the trainees and volunteers.
VOICES
The Asian Rural Institute, a training center for Rural Leaders, established in Nasushiobara, Tochigi, in 1973. Every year this institute accepts about 30 grassroots agricultural leaders from Asian, African and Pacific countries and trains them so that they will serve more effectively in their communities. Not only trainees but also volunteers from Japan and other countries work together at the institute. People of various nationalities, races, religions, customs, and values respect each other and live self-sufficiently through organic farming under its motto "That We May Live Together."
We, as students' volunteers, engaged in daily farm works and cooking with trainees and other volunteers, stayed in a dormitory with them. The official language at the Institute is English. Although the Institute suffered significant damage from the Great East Japan Earthquake, which struck on March 11, 2011, they actively rebuilt facilities, such as a new dining hall and the Becquerel Center, where they can measure radioactivity independently.
The 30 days at the Institute gave me real hands-on experience and enabled me to realize the importance of "Food" - the essential to our lives, attitude towards developing countries, hopes for future of trainees, and the agricultural labors.
Meeting staff members at Asian Rural Institute who have faced the effects of the March 11 earthquake firsthand and have worked seriously for "That we may live together" was also very precious experience. We very much hope that you will come to Asian Research Institute to meet and learn with people, and feel the earth under your feet.
Kobokan Community Center (Sumida City, Tokyo)
The Kobokan is a social welfare corporation located in Kyojima, Sumida City. It aims to "work together with local community members to solve welfare issues relevant to the community," with Kutsukake Gakuso Children's Home, a nursery school, and a community activities section as their operational three pillars. Service-learning students assist in the operation of the nursery school, after-school care for children and programs for older adults, and children's camp as volunteer staff of Kobokan.
VOICES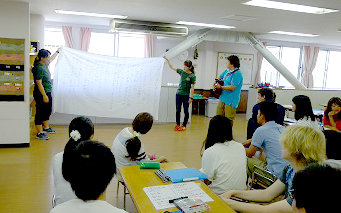 The Kobokan is a social welfare facility located at the foot of Tokyo SkyTree in Kyojima, Sumida ward, Tokyo. The community activity section, Kutsukake Gakuso Children's Home, and a nursery school form the three pillars of the Kobokan's operations. Based on the Christian spirit, aim to "work together with local community members to solve welfare issues relevant to the community," the Kobokan has been continued to carry out these operations since 1919.
At the Kobokan, students serve as volunteer staff at the nursery school, after-school care center, senior citizens program, and children's camps. After finishing each program, they give opportunities for reflection so that students can exchange opinions with others. These activities and plentiful reflection opportunities provide a glimpse of how Kyojima, a district with its unique and traditional culture, becomes infused into children and leave impacts on their relationships with others and their day-to-day living. Moreover, since a round trip between ICU and Oshiage station, the nearest station, takes around two hours by train, the commute tended to be time for unintentional self-reflection. The experience as a whole enables you to understand sociability of the community and the role of the facility in that community. The Kobokan is a fascinating place to engage in service-learning. You can learn not only about the children, but also the role of the community.
Japan Summer Service-Learning program
ICU Service Learning Center runs this program jointly with Middlebury College (U.S.). Students from ICU, Middlebury College, and other Asian universities engage in services at a farm, elementary and junior high schools, facilities for older adults and child-support programs both in rural and Mitaka City. Orientation, team building activities, service and reflection with students from the various cultural background will give you opportunities to reflect on the Japanese society from the different point of view.
VOICES
In 2016 academic year, I took part in this program, worked both in Mitaka City and in Tenryu-mura Village in Nagano Prefecture.
In Tenryu-mura, Aging Society and revitalization of the local community were the themes of our activities; a lecture on the history of Tenryu-mura by the local education committee, a barbeque with local products, a visit to the only elementary school, and staying with the local families. These various activities gave us opportunities to learn the village with the second largest elderly population in Japan from multiple perspectives, made us genuinely consider how to rejuvenate from now on.
In Mitaka City, education and elderly support were the themes of our activities. At Mitaka City Daisan (No. 3) and Dainana (No. 7) elementary schools, we assisted their English classes, played with kids after school hours when these schools open facilities to community uses and recreation. At Nagomi, a local daycare center, we helped staff with daily chores and communicated with elders. These activities across generation deepened our understanding of Mitaka City from a multi-dimensional perspective.
We emphasized reflection throughout the program. Each JSSL member exchanged remarks on activities lively during these reflection sessions. I rediscovered Japan with different and more international perspective than before.
Thanks to JSSL, I became more interested in Humanity and Community and decided to major Anthropology. For my senior thesis, I am willing to research "Sustainable Community Formation." JSSL also motivated me to apply for an exchange program so that I can test my international perspective and study further. I am now in the U.S. studying since September in 2017.
Other recommended organizations which accepted ICU students in the past.
| Name of organization | Location | Year |
| --- | --- | --- |
| Katariba | Iwate | 2014, 2015 |
| Tono Magokoro Net | Iwate | 2013, 2014 |
| National Federation of UNESCO Associations in Japan | Tokyo | 2013, 2014 |
| JAPAN FOR UNHCR | Tokyo | 2013, 2016 |
| Fairtrade Label JAPAN | Tokyo | 2013, 2014 |
| Second Harvest Japan | Tokyo | 2015, 2016 |
| JAPAN YWCA | Tokyo | 2013 |
| ADRA JAPAN | Tokyo | 2014 |
| World Vision Japan | Tokyo | 2015, 2017 |
| Galileo Kobo | Tokyo | 2016 |
| Kid's Door | Tokyo | 2016 |
| Peace Winds Japan | Tokyo | 2016 |
| Free Space Tamariba | Kanagawa | 2016 |
International Service-Learning
Service activities through "International Service-Learning" embrace our commitment to the international community, one of the founding principles of ICU. Students take part in Service-Learning programs offered by an overseas partner institution or agency in our network and engage in activities at local NGOs or public agencies. ICU students have participated in educational, welfare-related, developmental and many other activities through the course.Service Learning Center has built a network called Service-Learning Asian Network (SLAN) with universities and public institutions in Asia over the years. Students are to apply for one of the programs offered by SLAN partners. Some of the programs offer a chance to work with both local and exchange students from other countries.
Schedule
List of organizations that accepted ICU students (AY 2018 results)
※The country, organization, contents of the activity, period of placement, and a number of participating students may vary from year to year
Lady Doak College, India
ICU students, along with students from Hong Kong and South Korea, participate in International Service-Learning Programs offered by Lady Doak College to support children at facilities for children with disabilities, schools, and orphanages. Special events may be held at times, for example, student discussion on issues such as the Indian caste system, gender, etc., home visits or tours to historic sites.
VOICES
Many of Service-Learning participants are second-year students, but I decided to apply in my third year after I chose my major and began to have a better idea of which area of study I would want to pursue.
In Madurai where Lady Doak College is located, there are many historic temples, and I had plenty of opportunities to experience the local culture, such as visiting some of these temples, tasting Indian food and trying on traditional costumes. Also, the program includes lectures and discussions for us to understand Indian society better, especially on religion and gender. I was also able to visit NGOs and elementary schools and expand my learning.
In my service activity, I visited two places, an orphanage and a facility for disabled people, and spent some time with children there. It was difficult to communicate with them because of the differences in age, the degree of their disabilities, and language barriers. I also had troubles preparing for my activities, and things didn't work out as planned many a time. But I cherished the hours I spent with them and tried to face challenge after challenge in a given environment. These struggle made the experience unforgettable.
Through the communication with the people I met during my service activity, I discovered the beauty and joy of staying present for someone and realized that my motivation for service is the love for others. In the future, I'd like to dedicate myself to create a society where our lives come from genuine heart-to-heart dialogue with each other. I have no hesitation in saying that Service Learning in India will make our long summer vacations truly rewarding. I hope you will visit India and feel all the emotions I experienced in this country.
Union Christian College, India
The main activities include helping children at schools and schools for the blind or reflecting on peace with local citizens. Students in the past years had opportunities to take lectures at the Union Christian College and make presentations on Japanese history and systems. The region is characterized by its religious diversity different from elsewhere in India where Hindu is the dominant religion.
VOICES
I performed service-learning at Union Christian College (UCC), located in the state of Kerala in the southern tip of India, over four weeks from July 24 to August 21.
The main activities were visiting elementary schools and a school for the blind, introducing Japanese culture such as teaching songs and how to fold Origami papers there. I also had a chance to accompany members from UCC and other institutions and take part in their activities for a day.
I like children and major education. Visiting elementary schools and a school for the blind were reasons that I chose UCC. However, service activities in facilities for elderly or peace studies helped me expanded my horizons in other areas like social welfare and peace.
And I didn't just engage in service activities. I had plenty of time to enjoy sightseeing on weekends, to absorb a lot of Indian cultures.
I applied to the service-learning program casually, but after I completed the program, I found that I was able to see more clearly "what I want to do" and "what I ought to do" and "what is necessary." Many people probably think, "I'd like to go to India, but honestly, I feel a bit uneasy about it." If you are one of these people, I'd say, just go for it. I have NO doubts that everything you experience during four weeks you share with fellow members from Japan and India, service activities and eating curries, will be "awesome.""
Assumption University, Thailand
Assumption University partners with many social service organizations within Thailand because the university offers service learning as a compulsory course. ICU students who participated in their programs in the past have engaged in social service at a facility for children with disabilities or an orphanage in Pattaya or supported Japanese/English education at a high school near Bangkok. Accommodation is either a dormitory or homestay. Service-Learning students will have an opportunity to interact with local university students studying Japanese.
VOICES
Service-Learning was the program for me ever since I was introduced to ICU's educational curriculum for the first time on my campus visit.
I chose the Thai program for two reasons. First, the program offered a chance to support people with disabilities. I considered my experience at the Special Needs Support Service Office at ICU will be useful. Second, teaching Japanese at a senior high school in Thailand sounded very interesting since I am taking the Teacher Certification Program.
I worked at an institution for the disabled in early July. My day started with serving meals for children at the daycare center at 8:30, and taking a walk and playing with them afterward. In the afternoon, I went to a vocational training school for students with disabilities. The cultural exchange was the base of my activity. I showed them how to do Origami with the paper I had brought from Japan, and they taught me the Thai language in exchange.
Preparations for the next day's topic were also an essential daily routine. For example, to explain Tanabata (the Star Festival), I made paper strips and bamboo leaves in advance. In late July, I moved on to the next activity, teaching Japanese at a high school while staying with a local family. Along with the language, I introduced Japanese four seasons and yukata, and also organized a game-playing party. I still fondly remember the time when I wore a traditional Thai costume.
To be honest, I had a little concern about joining this program at first because I have never traveled overseas before, but it turned out that I didn't have to worry too much since it was a university program and was well taken care of. People at the high school and other facilities were comparatively well off, but I saw many children selling things and people with disabilities begging on the street. Coming face to face with this reality, economic disparity and poverty, I promised myself to keep myself aware of these social problems. I am going to major Development Studies, and I am sure that my experience in Service-Learning will influence my future studies and the senior thesis.
Petra Christian University, Indonesia
ICU students participated in the Community Outreach Program (COP) offered by Petra Christian University. Teams of students from Indonesia, Netherlands, South Korea, China, Hong Kong and Taiwan are sent to 8 different villages to engage in local service activities (facility development and repair) for about four weeks. The ability to actively communicate in English is essential for participating in this program.
VOICES
For a month from July 10 to August 4, 2017, I participated in COP (Community Outreach Program) organized by Petra Christian University, Surabaya, Indonesia. About 200 international students gathered for this program. We were divided into nine teams, dispatched to different villages, engaged in service activities while staying with local families. Among several reasons why I chose Indonesia, that the program offers us a chance to experience Indonesian culture via living with the local family was the most appealing one to me.
We engaged in service activities, both physical and nonphysical, from Monday to Saturday, six days a week. As for Physical works, students from Petra University visited villages before this summer program and investigated their needs so that we could plan our activities accordingly. We ended up repairing school building, picking up trash, making public trash cans, constructing banks. As for nonphysical works, we organized cooking classes for mothers, English and Healthcare lectures for kids, and various projects each of us international students planned.
We had Sundays off. We usually went to a morning market then cooked at home, went to the pool, enjoyed hiking, did lots of other fun stuff with group members.
Not only I understood service-learning deeper and gained more knowledge, but I also learned that communication and tolerance are the keys to work smoothly in an international team. Before the program starts, I was so eager and excited, willing to contribute as much as I could for those in needs, but I ended up learning a lot more from locals and teammates. From the third year, I am going to specialize in developmental studies and education. Experience of this program renewed my confirmation that I am going to work in development in the future.
Silliman University, Philippines
Students who participate in this program will have opportunities to learn about various social problems because they visit multiple organizations with the different focus every week (e.g., orphanages for one week, DV victim assistance centers for one week, shelters for another, education support at elementary schools for the last week, etc.). Silliman University kindly assign local students to accompany ICU students. It is very reassuring, and helps build strong ties between the students.
VOICES
Service-Learning program sends students to places that are often difficult to visit as individuals. That is what appealed to me the most since I wanted to research in such areas for development studies. Exchanging ideas and opinions with other participants at reflection intrigued me since it would help me understand issues deeper. Working in various facilities, staying with different families every week was also a bonus since it means that I can learn the Philippines from different perspectives in this program.
I spent my first week at an orphanage and visited kindergartens and schools in three locations. By helping with English classes and participating in an organization called Soup Kitchen, I found that education at kindergartens in villages is vastly different from one at those belong to some of the country's most prestigious private universities. The children's backgrounds at the orphanage, their high social skills and management philosophy of the facility were also something I rarely have the chance to learn. I stayed at a village at the top of a mountain in the second week and one near a major city in the third week. I experienced unique lifestyle of farming villages and learned face to face the progressive approach of leaders in the region.
By visiting these places, I learned that the rural area and its communities could fend for themselves without support from volunteers. I also witnessed that children, who had gone through poverty and domestic troubles, could march towards the future even embracing their past and enjoying their present life more than we do. I came to realize that development efforts led by advanced countries such as Japan are not always necessary. Comparing Japan and the Philippines side by side, I appreciate the latter's culture that values optimistic views and smiles, then wonder whether we can see such positivity in our society or not. My Service-Learning experience prioritized studying domestic issues over international ones, I think. Engaging with people in developing countries on an equal footing, without patronizing them thinking "we HAVE TO support these people" is also the attitude I couldn't adopt without participating this program.
Seoul Women's University, Korea
The main part of the service is to support children and teach Japanese language and culture at children's homes or community centers for low-income people, along with local students and students from Hong Kong. The project aims to build a better relationship between Japan, China, and South Korea. In one year, participants were divided into several teams, each of which carried out a project on a subject related to the three countries and submitted the project report to an international cooperative organization. Sharing the excitement of learning with students from other countries is a notable part of this program.
VOICES
I participated in International Service-Learning in South Korea mainly for two reasons. First, I wanted to experience and find what it would be like to work as a volunteer. Second, I am interested in the Japan-South Korea relations from the historical and political perspectives and wanted to have an opportunity to consider various problems in this field and deepen my understanding.
Eight students in total took part in this program at Seoul Women's University - four from South Korea, two from Japan and two from Hong Kong. We split into two groups to engage in service activities. My team visited community centers, where children gathered after school, to teach them the cultures of Japan and Hong Kong. More specifically, I taught Japanese, made presentations to introduce Japan, and cooked Dorayaki pancakes with children. They were particularly happy with Dorayaki since it is well-known thanks to the famous animation "Doraemon."
I served at two community centers that focused on children in different age groups. Coming up with program ideas suitable for each age group was a little challenge for me. Also, a difference between my expectation and real activities confused me during Service-Learning in South Korea. There weren't as many hours for service activities as I had thought for instance, and there was no workshop on the Japan-South Korean relations this year as I've heard from past participants. However, I learned unexpected things and realized my options for future unfolded because of the experience. As expected or not, you will have no regret taking part in Service-Learning.
The Amity Foundation, China
The Amity Foundation is a Christian NGO headquartered in Nanjing and active throughout China. The education department of the Foundation arranges service activities for ICU students every year. Students work at facilities for the mentally disabled or the older adults and ethnic minority communities operated by the Foundation. Service-Learning students also have a chance to work with volunteers from Europe and the U.S.
VOICES
For a month I engaged in service-learning in Nanjing, Amity Foundation dispatched us ICU students to a kindergarten for children with autism, a welfare facility for people with disability, community centers in different scales. Having an interest in Japan-China historical perception, interacting with locals, and long-term service activity, I came to apply for the program.
During service activities, we focused on deepening friendship with children by introducing Japanese culture. It mostly consists of teaching origami, singing songs together, playing the game "Fruit Basket Turnover," and cooking and tasting Japanese cuisine.
I was a teaching assistant for five-years-olds at the facility for autistic children. Teachers there seriously spoke no English at all, and I spoke no Chinese. Verbal communication was crucially hard to establish. It was surely one of the desperate situations.
A month of service-learning experience would not have been possible had I visited as a tourist, it gave me rare opportunities to learn the local, and strongly motivated me to major Asian-Studies.
Also, I came to value one to one communication. Before the program, I had a concern that there might be some animosity by Chinese people toward us Japanese. However, it was quite the opposite. People of Nanjing greeted us warmly with open arms. They treated us not as "a Japanese" but as a person. I learned to appreciate individuals because of the experience.
I hope more students will consider applying for this program regardless of destinations. You'll face both fun times and tough times, but they will all be valuable, irrepressible experiences, and I highly recommend this program to make your studies at the university truly meaningful.
Chung Chi College, The Chinese University of Hong Kong, Hong Kong
Chung Chi College, The Chinese University of Hong Kong is the oldest service-learning partner of ICU. Students are provided with valuable opportunities to learn about the society of Hong Kong, historical relation with China, and the mindset of the people in Hong Kong. ICU students, with the local and South Korean students, engage in cultural exchanges and other activities for immigrants, people with disabilities and children of the New Territories Region.
VOICES
At the Chung Chi College of the Chinese University of Hong Kong, students can choose activity locations among multiple choices so that the one-month experience matches their interest as much as possible. Before leaving for Hong Kong, we had exchanged e-mails with university staffs and chose two main service activities; "children in secondary education," and "senior citizens." By engaging in multiple services, we were able to consider the problems Hong Kong is facing from diversified perspectives.
We engage in service with local college students. The focus of activity is slightly different from group to group, and ours was on introducing Japanese culture. We relied on local students for setting up schedules, but we work out plans on our own from scratch. We gave serious consideration to how we could meet the needs at each facility. For children, we showed the traditional Japanese New Year's game of Fukuwarai and gave lessons on the Japanese language. We also did the "Yokai Taiso (Monster's Exercise)" together. For elder people, we planned Japanese calligraphy and did physical exercises side by side. Every day was so fulfilled with service activities and educational trips that, consequently, there were only five full days off during the four weeks.
Academically, requirements are to take personal activity notes and reflection notes every week and submit them to the local Service-Learning staff. We had opportunities to suggest how to improve the service at reflection meetings with staff at the end of each week. There were also many chances for international exchanges and experiencing Hong Kong culture such as discussions with students in Hong Kong and from other countries who participated service activities during the same period, and having yum cha (Chinese tea and snacks) together.
Lingnan University, Hong Kong
ICU students, with the local, Taiwan, Korean, Philippine students, engage in service activities according to the theme of their choice. Lectures, research, debates are assigned on these subjects. Students also have the opportunity to participate in service activities during a 1-week field trip to Kunming city. English communication is essential in this program while understanding Chinese will also be very helpful.
VOICES
"Service-Learning Summer Institute" at Lingnan University in Hong Kong is the program I participated. I chose "Social Enterprise" from four offered themes and teamed with students from Hong Kong, Taiwan, and the United States. Before the trip, I tried to get a better grip on the topic by contacting overseas students through Facebook and watching documentaries about Hong Kong. After arriving in Hong Kong, we all took lectures on the theme of our choice, and visited various facilities, then worked as volunteers there.
Our group worked at a social enterprise called BicLine, which promotes eco-tours and gives support for the employment of young people in Hong Kong. We interviewed guides, translated tour materials and made proposals for new tours and advertising strategies. We also had an opportunity to visit Sichuan Province for two weeks. Our members went to a village hit by the Great Sichuan earthquake, where an NGO has been offering support for reconstruction. We learned a low-carbon life the villagers were trying to lead as well as organic farming.
In Hong Kong, we submitted a journal every day. It is a requirement to reflect on our activities regularly for the group presentation. Professors at Lingnan University gave us face-to-face support and advice on our preparation work. As is shown here, the program at Lingnan University is fairly academic and enables us not only to undertake various activities but also to study the theory of Service-Learning. I hope you will decide to join this program and enjoy the experience of active learning in Hong Kong.
GLM Institute, Kenya
In 2018 ICU became a partner with GLMi and started sending students to Kenya. This non-profit organization engages in the project called "CADVES" to improve basic education in Loitokitok, a town in southern Kenya. The project is financially supported by the Ministry of Foreign Affairs in Japan.
VOICES
Besides visiting the United Nations in Nairobi and interaction with many volunteers and NGO staff in Kajiado, I was most strongly impressed with days spent at elementary schools.
In Japan we often see photographs of poor African children as a promotion for support activities or donation.
They were only my image of Africa before going to Kenya, but I felt I could get to know more real African children's everyday lives through meeting and spending time with them at elementary schools in Kajiado every day.
While there was a fact of hard life such as poverty or harsh environment, I could find their rich indigenous culture and feelings of joy and pleasure which are hardly founded in my life.
I remember I felt very happy when Kenyan people's lives became a part of my life after one-month stay with them and also when I felt I was watching the same scene with elementary school children and teachers.
For inquiries on Service-Learning
ICU Service Learning Center
Established in October 2002, ICU Service Learning Center (SLC) has formed a network together with other higher education institutions in Asia since 2003 to promote student exchange through Service-Learning activities. It was selected as a program for "Strategic Promotion of International Cooperation" project subsidized by the Ministry of Education, Culture, Sports, Science and Technology (MEXT) in 2005, and has particularly been emphasizing international service-learning. In addition to program briefing sessions, orientations and course support, SLC offers a broad range of student support including negotiation with partner institutions, follow-up of overseas travel preparation, on-site inspection and implementation of safety measures to ensure that students can safely and securely engage in service activities.
Kiyoshi Togasaki Memorial Dialogue House 2F,
3-10-2, Osawa, Mitaka-shi,
Tokyo, Japan
Tel: +81-422-33-3687 Mail: slc@icu.ac.jp