Service-Learning
Service-Learning: Experiential learning to critically think and act for others and world peace throughout one's life
Service-Learning means learning through service activities (or voluntary activities for spontaneous and social contribution). It is an experiential learning that has an intention to develop new ways of thinking, behaving, and being through reflection by finding a same goal with a community, engaging oneself with social issues as his/her own, and integrating academic knowledge and experiential knowledge. While becoming conscious of their own perspectives and positionality, students will obtain critical thinking, proactive behaviors, communication with profound understanding of diversity, reciprocity and tolerance, which will eventually lead to finding their own identity of global citizenship and meaning of social engagement. It is not by dividing academic knowledge and experiential knowledge but by integrating them that students will actively gain their own perspectives. Liberal arts education emphasizes integration of diverse knowledge and ways of knowing beyond specialized knowledge as well as nurturing citizenship by educating heart. ICU aims at preparing students through service-learning to become life-long learners who will continue to think critically and to act for others and world peace.
Service-Learning in 3 Steps
ICU offers a year-long curriculum for Service-Learning to ensure that students' service experiences will evolve into meaningful learning. "GE: Service-Learning (General Education)" in Japanese and English and "Preparation for Service-Learning Field Study (for ISL)" are courses offered to provide preparation for a 30-day service. "Reflection on Service Experiences" provides an opportunity to look back on the experience.
The central part of Service-Learning program is the actual service activities. Students enroll in one of the two categories: "Community Service-Learning" for domestic and "International Service-Learning" for overseas depending on the service site. Students can do service activities in Japan throughout the year and register for "Community Service-Learning" in Spring term or Autumn term. These two courses are also co-listed as some interdisciplinary major courses. These courses have a variety of student-led (i.e. Students will find their own partner organization.), institution-led (i.e. ICU has programs with partner institutions.), and faculty-led courses (i.e. Full-time faculty designs a course). Service-learning outcome rubric has been developed and visually shared with students and faculty.
Community Service-Learning
The Community Service-Learning course started in 1999. Students engage themselves in service activities at NPOs, public organizations, and local communities in Japan. Students have regularly worked at institutions that have a long relationship with ICU. Students are also encouraged to explore new service sites that meet their interests such as education, welfare, environmental problems, global issues and local communities by negotiating with host organizations on their own. Both custom-made and regularly-conducted Community Service-Learning offers excellent opportunities to gain deeper insight into Japanese society .
LEARN MORE
List of host organizations (AY 2018-2019 results)
Shiraho Coral Village - WWF Japan Coral Reef Conservation and Research Center
Public Elementary Schools in Mitaka City
Japan Summer Service-Learning (JSSL) program

※The organization, contents of the activity, period of placement, and a number of participating students may vary from year to year.





Shiraho Coral Village -- WWF Japan Coral Reef Conservation and Research Center (Ishigaki City, Okinawa)

Shiraho Coral Village is a Japanese branch of the World Wide Fund (WWF), an international environmental NGO. ICU students do service activities at WWF and local NPO "Natsubana." They also help with preparation and operation of Shiraho Sunday Market (town revitalization event), and Shiraho Children's Club, while staying at a guest house in Shiraho District of Ishigaki Island.

Asian Rural Institute -- Rural leaders Training Center -- (Nasushiobara City, Tochigi)

Asian Rural Institute is an international training center that brings together people who are engaged in rural development from Asia, Africa, and the Pacific regions to train leaders of rural communities. Not only trainees but many volunteers from Japan and abroad gather at the institute, where people of various races, nationalities, religions, customs, and values live together respecting each other's differences. Service-learning students engage in farming and learn about food, development of advancing countries and agriculture while staying in a dormitory with the trainees and volunteers.

Nagasaki Foundation for the promotion of peace -- (Nagasaki city, Nagasaki)

This program was newly added in the summer of 2019 through the partnership agreement with Nagasaki University. ICU students support activities of Nagasaki Foundation for the Promotion of Peace, a local organization to realize the abolition of nuclear weapons and the world-wide peace. They mainly participate in the "Youth Peace Volunteer" and "Youth Peace Forum" as well as volunteering at the Nagasaki Atomic Bomb Museum and training at Nagasaki University. Students can also participate in the Peace Memorial Ceremony on August 9th as part of the activity.

VOICES

I joined the program with excitement because this is the first ICU's SL program in Nagasaki. During the program, I was impressed to see everyone from the peace community was working together for peace activities. It was also impressive that they feel sad when people say "peace activities are a matter only in Nagasaki and Hiroshima." I thought it's strange that only the people of Nagasaki and Hiroshima are committed to peace activities because the atomic bombs and wars are not just problems for Nagasaki and Hiroshima but also all people in the world. After the experience in Nagasaki, I do think that my mission from now is to act for peace in Tokyo, Japan, and the world.

In Nagasaki, I had some chances to think of my views on life, values, studies, and future plan. I also noticed that I have the ability to expand my own community while working with local people. Such connections with people in Nagasaki made me more confident and grow up.

Japan Summer Service-Learning program

ICU Service Learning Center runs this program jointly with Middlebury College (U.S.). Students from ICU, Middlebury College, and other Asian universities engage in services at a farm, elementary and junior high schools, facilities for older adults and child-support programs both in rural and Mitaka City. Orientation, team building activities, service and reflection with students from the various cultural background will give you opportunities to reflect on the Japanese society from the different point of view.

VOICES

Not only a lot of valuable learnings that I have obtained from the local communities, but also there are other learnings that I had from the students from overseas. For example, when we heard about a story of foreign forced laborers in the past from people in Tenryu-mura, the students from overseas told me how they learned about the Japanese soldiers' rule during the war and what they think about history education in their country. These brought a new perspective to what I had known about "Japan during the World War Ⅱ" and "History Education."

Another thing that I was impressed was when I saw a behavior of children at elementary school in Koganei City, which they naturally behaved like caring for others. Especially in the 4th grade class, when a boy broke down and vomited, none of other children looked annoyed and tried to help him immediately. I wondered if I could have behaved like that when I was in the same age with them. Overall, I felt that I became more familiar with the local community by doing a wide range of activities such as agriculture in Mitaka City and international education in Koganei City.

Read more voices
International Service-Learning
Service activities through "International Service-Learning" embrace our commitment to the international community, one of the founding principles of ICU. Students take part in Service-Learning programs offered by an overseas partner institution or agency in our network and engage in activities at local NGOs or public agencies. ICU students have participated in educational, welfare-related, developmental and many other activities through the course.Service Learning Center has built a network called Service-Learning Asian Network (SLAN) with universities and public institutions in Asia over the years. Students are to apply for one of the programs offered by SLAN partners. Some of the programs offer a chance to work with both local and exchange students from other countries.
LEARN MORE
List of organizations that accepted ICU students (AY 2019 results)
※The country, organization, contents of the activity, period of placement, and a number of participating students may vary from year to year
Lady Doak College, India
ICU students, along with students from Hong Kong and South Korea, participate in International Service-Learning Programs offered by Lady Doak College to support children at facilities for children with disabilities, schools, and orphanages. Special events may be held at times, for example, student discussion on issues such as the Indian caste system, gender, etc., home visits or tours to historic sites.
VOICES
Through the program, I learned a lot about Indian cultures and social issues. In addition, I had a chance to spend time together with student volunteers at their home, so I could see many good things about South India and life in India.
We engaged in service activities at two elementary schools; one in the city center and the other in the suburban area, for four days for each school. We introduced Japanese culture, health management, and environmental issues by playing games. Working in two schools, I was able to consider how the family environment would make a difference in the quality of education and personality.
Moreover, local students once gave us a lecture about Indian culture, talking about the good points of their country with a confident expression. I was overwhelmed by the strength of patriotism that people in India had. On the other hand, I had opportunities to talk with various people including families of student volunteers and many people in the local communities, and some said "it is difficult for women to live in India. I wish I could live in the country with freedom like where you live." Therefore, I thought there were things that could be understood only among individuals, rather than lectures.
The service-learning experience was a valuable experience that I could never had in Japan. While I was negative some time during activities, I feel this one-month experience broadened my horizons in terms of myself, others and the world and made me grow a lot, not only acquired knowledge and English skills.
Petra Christian University, Indonesia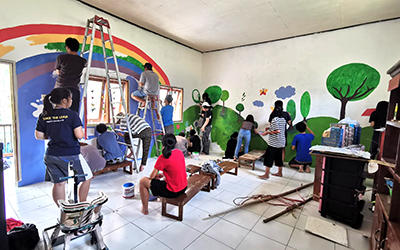 ICU students participate in the Community Outreach Program (COP) offered by Petra Christian University. Teams of students from Indonesia, Netherlands, South Korea, China, Hong Kong and Taiwan are sent to 8 different villages to engage in local service activities (facility development and repair) for about four weeks. The ability to actively communicate in English is essential for participating in this program.
VOICES
For the first 4 days in Indonesia we had a field trip with only ICU students, which was a good opportunity to adapt to the local food and lifestyle. In addition, I was able to analyze more critically the Indonesian village life because during the field trip I could discover the characteristics and problems of Indonesia that would not have been gained from village life alone.
The biggest feature of the program (COP) in Indonesia is that you can engage in service-learning activities with students from all over the world (China, Korea, Indonesia, Netherlands, Taiwan, Hong Kong, and Japan). Living in a foreign village, I was surprised by culture and behavior that I couldn't imagine in Japan, but I felt it very fresh to share such an environment with friends from different countries and I was glad to participate in this program. In an environment where the communication tool is only English, sometimes I was worried that I was able to properly convey my thoughts. However, all the participants are not native speakers of English and they were trying to convey their thoughts and it inspired me and helped improve myself.
The SL program is a short-term program that lasts for about a month during summer recess but it was very fruitful time and a precious opportunity for me to think over the meaning of service, impression of developing countries and how I should be in the society.
Silliman University, Philippines
Students who participate in this program will have opportunities to learn about various social problems because they visit multiple organizations with the different focus every week (e.g., orphanages for one week, DV victim assistance centers for one week, shelters for another, education support at elementary schools for the last week, etc.). Silliman University kindly assign local students to accompany ICU students. It is very reassuring, and helps build strong ties between the students.
VOICES
I stayed at a shelter and interacted with girls who had tough experiences. Through this experience, I knew some problems of Dumaguete and the Philippines and also had strong connections with them. Sometimes I wondered, "What can we do for the girls in a short time?" But the local teacher told me, "when the girls become independent and leave the facility, the memories that people from Japan came to meet them and spent time together may support them." This made me realize that my learning experience may simultaneously be a meaningful encounter for others. I think service-learning provides a place of such encounters to the future.
I was also grateful for building a warm relationship with buddies and teachers in the Philippines. During the last homestay, I suffered from a terrible stomachache. Though it was a tough experience, I felt the hospitality of the people in the Philippines through the support of my host mother, buddies, and local teachers.
Through service-learning, we can have many connections with people we don't meet in our daily lives. I realize that I am just a small person in the world. I felt that I could take a step forward.
Read more voices
For inquiries on Service-Learning
ICU Service-Learning Center
Established in October 2002, ICU Service-Learning Center (SLC) has formed a network together with other higher education institutions in Asia since 2003 to promote student exchange through Service-Learning activities. In addition to program briefing sessions, orientations and course support, SLC offers a broad range of student support including negotiation with partner institutions, follow-up of overseas travel preparation, on-site inspection and implementation of safety measures to ensure that students can safely and securely engage in service activities. Furthermore, SLC attempts to update pedagogical approaches to Service-Learning that are evolving on day-to-day bases and to conduct empirical research by publishing a monograph series. Since 2020, SLC has established the online-modules of Service-Learning so that more students and faculty members will be able to learn about Service-Learning pedagogy and content, as well as expending its partnership with institutions beyond the Asian region.
Kiyoshi Togasaki Memorial Dialogue House 2F,
3-10-2, Osawa, Mitaka-shi,
Tokyo, Japan
Tel: +81-422-33-3687 Mail: slc@icu.ac.jp
Service-Learning Center Website