NEWS
Special lecture by Mr. Dirk Hebecker, Representative of the UNHCR (United Nations High Commissioner for Refugees) Tokyo Office
Update: December 22, 2016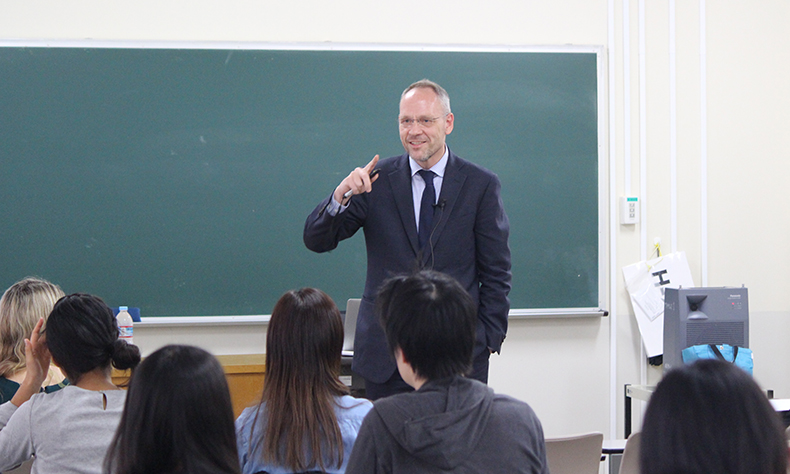 On December 21 (Wed), organized by the ICU Rotary Peace Center* and under the theme "The UN Refugee Agency - Global Challenges and Opportunities", Mr. Dirk Hebecker, Representative of the UNHCR (United Nations High Commissioner for Refugees) Tokyo Office, delivered a lecture as part of the course "Global Civil Society" taught by professor Osamu Arakaki (Major: Law).
As he touched on the history and outline of UNHCR which was established in 1950 to aid refugees from World War II, Mr. Hebecker occasionally threw questions to the audience such as: "Why is UNHCR necessary?", "Why are the UNHCR headquarters located in Geneva instead of New York where the UN headquarters are?" and "What are the definitions for 'refugee'?". He gave detailed explanations on the current regions and issues UNHCR is addressing.
=====
*ICU Rotary Peace Center and Rotary Peace Fellows
ICU Rotary Peace Center was established on the ICU Campus under cooperation with Rotary International as one of the six Rotary Peace Centers located in 5 different countries. Each year ICU accommodates around ten Rotary Peace Fellows who pursue a master's course in international studies focusing on peace and conflict resolution, at ICU Graduate School.