NEWS
ICU student wins an award at space law moot court competition
Update: March 27, 2017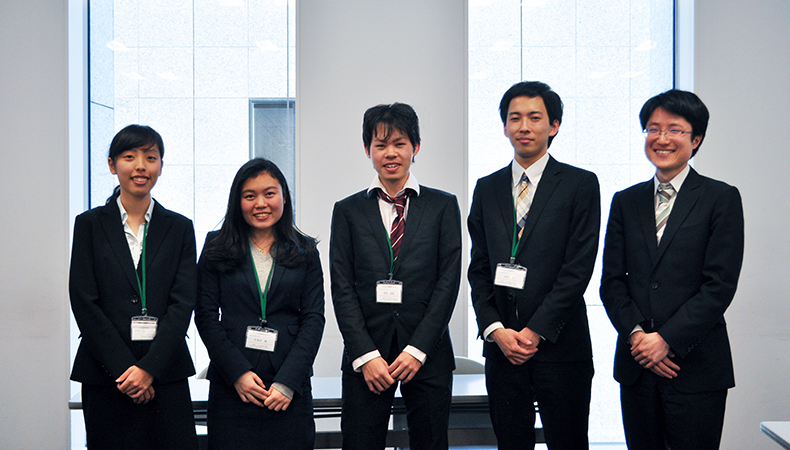 From Left: Ms. Yamazaki, Ms. Nakakita, Mr. Narushima, Mr. Arakane and Assistant Professor Matsuda.
ICU student, YAMAZAKI Chizuru(third-year student) won the third best speaker's award in the 12th Space Law Moot Court Competition Japan Round. The competition was organized by Space Law Japan Students Conference, directed by Professor NAKATANI Kazuhiro of The University of Tokyo Faculty of Law, and supported by Ministry of Foreign Affairs of Japan and The Japan Aerospace Exploration Agency (JAXA). Three other ICU students, ARAKANE Subaru(second-year student), NARUSHIMA Toshiki(second-year student), and NAKAKITA Momo(first-year student) also participated in the competition. A total number of 29 students from Space Development Forum, Koyo University, International Christian University, The University of Tokyo, Toyo University, Waseda University participated in the competition.
Moot court activity is gaining more and more attention as the most successful active learning opportunity in universities around the world. Assistant Professor Matsuda (Law major) is conducting a project "Moot Court Activity for Peace and Human Rights" with support from Japan ICU Foundation, a public charity based in New York City committed to supporting ICU's global programs.
Students competed with their legal techniques of persuading law professors, JAXA officials, and lawyers, who act as judges of the International Court of Justice over disputes among states. ICU Students spent about three months on extensive research, legal writing, and oral pleadings for both Applicant and Respondent over a complicated legal case in space development.
A Comment from Assistant Professor Matsuda (Law major):
The award in space law competition follows the prizes in international law moot court competition for Japan Cup in July 2016 (see http://www.icu.ac.jp/news/160716_n_1.html). These fantastic achievements in moot court activity demonstrate a genuine worth of ICU's liberal arts education. Since ICU students thoroughly train their critical thinking skills from the first year, students acquire high ability to tackle extremely complicated problems and construct persuasive arguments with extensive academic research. These are core competencies for peaceful resolution of conflicts through dialogue. In the Space Law Moot Court Competition, ICU team was unique in their inter-disciplinary spirit: students did an extensive research not only in the field of law but also in the area of space physics. I expect that ICU students will significantly contribute to peaceful resolution of international disputes that are arising in the real world.
A Comment from Comment from Ms. Yamazaki:
Firstly, I want to say thanks to my honorable teammates, Subaru, Momo and Narushi. I am also deeply grateful to Professors Matsuda and Ishimaru (physics major). Participating in the moot court competitions made me realize that I could engage in various kinds of areas from legal perspectives such as marine and space. Furthermore, I also felt that ICU's liberal arts is the best environment to pursue my infinite curiosity. It was a hard time for us to prepare the memorials and search the relevant case law partly because of later specialization in ICU. Although we started learning law recently, we got a prize! Finally, I expect many ICU students come to engage in law, and the law major to be the hottest major in ICU.