NEWS
Two ICU students win prizes at a Spanish speech contest sponsored by the Colombian Embassy
Update: 2017年8月16日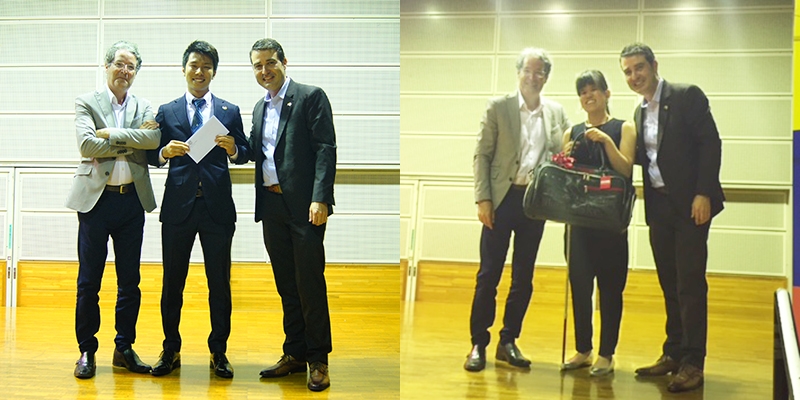 An ICU student, Ryoya Iwayama, won the first prize in the Aprendiz Division* of the first Spanish speech contest held on Saturday, July 8, under the sponsorship of the Colombian Embassy in Tokyo. He was a third year student in the College of Liberal Arts at the time he won the prize. Ayumu Oshita, a third-year student of the College of Liberal Arts, came in fourth.
*The Aprendiz Division: The division for contestants whose native languages are not Spanish, whose parents are not from Spanish-speaking regions of the world and who have spent less than six months in total in such regions.
This speech contest was held for the first time. Eight contestants who had passed preliminary screenings on the basis of their application papers went through to the final selection process based on their speeches. The entrants were judged by the content, grammar, pronunciation and presentation of their speeches.
Comment by First Prize-winner Iwayama
I heard about the speech contest from Mr. Daniel Quintero Garcia, the instructor who is teaching Spanish at ICU. He said, "You may be able to go to Colombia if you win" and I made up my mind to give it a shot.
I had been studying Spanish on my own since primary school until I took a Spanish class for the first time at ICU in the spring term. I began studying Spanish because many of friends in primary school had parents who were from South American countries. I was attracted by the way their language sounded when they were speaking with their family members.
Since we were free to choose our topics for the contest, I spoke about how I began studying Spanish and about the happiness of South American people, something I had always been interested in. Poverty and crime are still widespread in many countries and regions in South America, but people are still looking toward the future, having fun and are living happily. As a matter of fact, a happiness survey* in 2016 ranks Colombia as No. 1. I am very interested to find out why South American people are happy and what they are happy about.
*A joint survey by the Gallup International Association, a U.S. opinion polling company, and Worldwide Independent Network of Market Research (WIN) conducted in December 2015. http://www.wingia.com/en/services/end_of_year_survey_2015/global_regional_results/9/53/
On the day of the contest, I was lucky enough to go first on stage. Many of my friends came to watch and I was able to speak without feeling any undue pressure. That, I think, was one of the reasons I came in first. I had no idea I would win and would be able to go to Colombia, a country I had always wanted to see. The moment the winners were announced and I received the prize, I was really happy.
Of course, I will study Spanish in Colombia, but I would also like to learn how the people in the country relate to each other and what it is that enables them to live happily. And I also hope to do whatever I can to spread the ways to live happily to the people in Japan and in the world.
Comment by Fourth-prize winner Oshita
The title of my speech was "El Regalo de Costa Rica" (a gift from Costa Rica). I spoke about the time I worked as an environmental protection volunteer at a national park in Costa Rica during the spring break this year. I talked about how I had wanted to work overseas on my own to celebrate my 20th birthday, how I encountered rare plants and animals every day in Costa Rica, and how people in the country are more evidently kind than we are here in Japan. I also told the audience that I was moved by the way they cared so warmly about my feelings and that I came to doubt the idea of calling Japan an advanced country and Costa Rica a developing nation solely on the basis of material wealth and in disregard of the spiritual richness of the South American country. I also talked about my hope to give children who are visually impaired, as I am, more opportunities to enjoy nature.
I had been nervous until my turn came. Once I started speaking, however, I remembered the days I had spent in Costa Rica and I was able to speak in a relaxed mood. I was recalling how truly happy I had been during the three weeks I had spent in Costa Rica.
I am grateful that I was able to share with the audience the precious experience that gave me the dream to become involved in efforts to address environmental issues in Latin American countries. In order to make that dream come true, I will continue to study Spanish and my major, environmental studies, here at ICU.