NEWS
ICU Festival Committee collaborated with a group supporting local farmers to develop an original beverage named "Mitaka Berry" ―On sale at local cafés and events
Update: September 6, 2017
ICU Festival Committee, the organizer of the ICU Festival, developed an original beverage product using blueberries grown in Mitaka City, where ICU is located. The beverage was named "Mitaka Berry" and sold at a special booth set up at Mitaka Awa Odori (*1) held on Saturday, August 19, in front of Mitaka Station. The popular local dance festival celebrated its 50th anniversary this year. Starting from Monday, September 11, up to 100 servings of Mitaka Berry will be sold at Café Hammock (*2), a café in front of Mitaka Station that participated in the development of the beverage as a supervisor. Mitaka Berry will also be sold at the ICU Festival to be held over the weekend of October 21-22, and may even become a regular menu item at Cafe Hammock in the future.
*1 Mitaka Awa Odori is an annual event held in Mitaka, famous for its love for Awa Dance
*2 Cafe Hammock is a local café situated in front of Mitaka Station
This original beverage was born from a project aimed to help activate the regional economy by developing a local specialty using locally grown ingredients. The project was jointly launched by "Machinaka Noka Project" (*3), a group supporting farmers in Mitaka City and Musashino City through PR and other activities, and ICU Festival Committee, which sets the theme for this year as "ICU Festival as an opportunity for promoting exchange in the local community" (*4).
*3 Machinaka Noka Project is a local group supporting farmers (Noka) in Mitaka City and Musashino City.
*4 ICU Festival Committee held a poster session titled "Let's Talk about the Future of the Local Community and University" in front of Mitaka Station at the end of March. (See ICU NEWS http://www.icu.ac.jp/news/170506_1.html)
People of a wide age range participated in the tasting event (photo on left) and offered various ideas
In an attempt to develop a product that would also become popular among university students, ICU Festival Committee created the original recipe for the beverage and held a tasting event to invite the local people to have a taste of the beverage. The recipe was finalized under the supervision of Cafe Hammock.
Mitaka Berry is made from blueberries from Yoshino Orchard (*5), a blueberry orchard located close to the ICU campus and introduced to the ICU Festival Committee by the Machinaka Noka Project. Members who were involved in the development of the beverage held a blueberry picking event at the orchard and enjoyed harvesting 5kg of blueberries.
*5 Yoshino Orchard is located right behind the back gate to ICU campus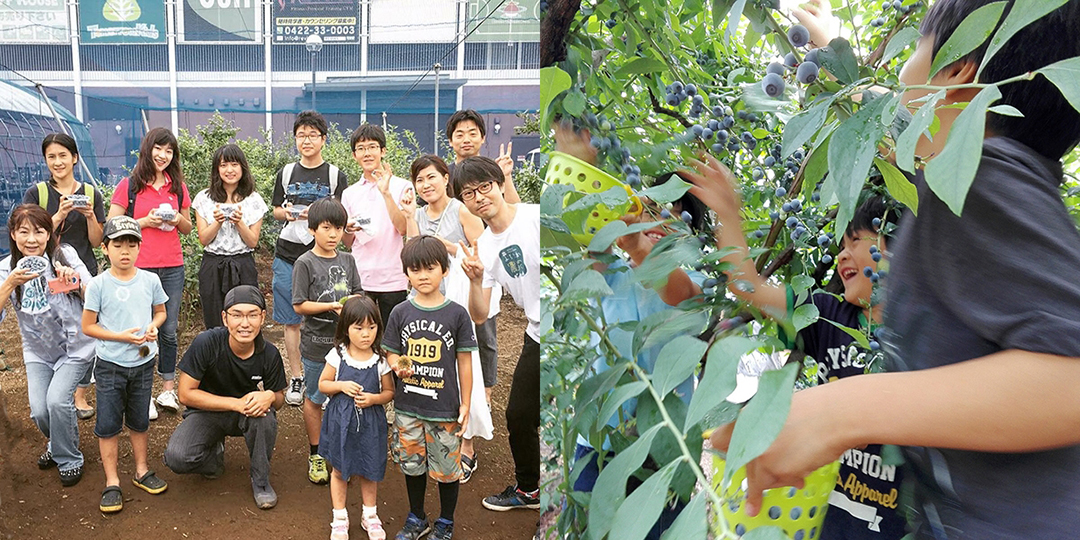 Blueberry picking
Mitaka Berry was first introduced to the public last month on the first day of Mitaka Awa Odori, a local dance festival popular among the people of Mitaka City known for their passion for Awa Dance. Unfortunately, the beverage was sold for only one hour, as the event was soon called off due to rain. Approximately 40 servings sold for 300 yen a glass, however, and a comment was heard from a purchaser that "the sour taste is nice and refreshing."
Mitaka Awa Odori site
This newly developed blueberry beverage, Mitaka Berry will also be sold at the ICU Festival to be held over the weekend of October 21-22, in an area where shops in the neighborhood of ICU will set up lots of booths and food stalls.
Logo of the local shop area created for ICU Festival 2016