NEWS
2019 New Year Chapel Hour
Update: January 10, 2019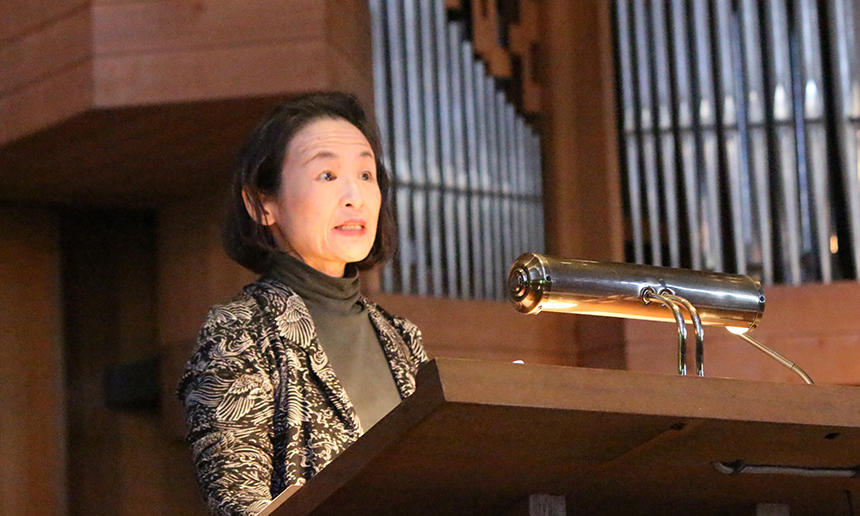 The 2019 New Year Chapel Hour was held at the university chapel on January 9 (Wed).
The service conducted by Rev. Shoko Kitanaka began with a chorus of Hymn "Great God, We Sing that Mighty Hand" by all those in attendance, and continued with a Scripture Reading of Psalm 130: 6.
===
Psalm 130: 6.
My soul waits for the Lord
more than those who watch for the morning,
more than those who watch for the morning.
===
Following the Scripture Reading, President Junko Hibiya delivered her message.
Full text of President Hibiya's message is below.
---
A Happy New Year!
As you know, Taizansō, one of Japan's Registered Tangible Cultural Properties, is located on the ICU campus. Kōfūkyo, built in 1925 by the lord of the Kishū Tokugawa clan, Tokugawa Yorimichi, is particularly venerable; the "One-Mat Room," a small study annexed to the building, is an important structure created by Matsuura Takeshirō, the godparent of Hokkaido and an explorer, to commemorate his 70th birthday. The room is comprised of pieces of wood sent by shrines and temples ranging from Miyagi to Miyazaki.
The year 2018 marked the bicentennial anniversary of the birth of Takeshiro. The ICU Hachiro Yuasa Memorial Museum held a special exhibition titled "The One-Mat Room at ICU," commemorating his bicentennial anniversary from September 11 to November 9, 2018. The One-Mat Room was introduced by a full-scale model and photo panels: about 80 articles left by Takeshiro such as letters, picture postcard books, left-over materials of the One-Mat Room were also displayed. I visited the exhibition, went inside the model and spent some time reflecting on Takeshiro's final years.
On October 6, a symposium entitled "Exploring the World of the One-Mat Room" was held at the auditorium in the Diffendorfer Memorial Hall East Wing that attracted as many as 250 visitors. The symposium opened with a dialogue between Mr. Masato Takegami, Mayor of Takeshiro's home town Matsusaka City of Mie Prefecture, and Professor Katsuhiko Mori, Dean of the College of Liberal Arts. Professor Henry Smith, Professor Emeritus of Columbia University, who taught also at ICU gave the keynote lecture, titled "The Journey of Curiosity and Creativity by Takeshiro Matsuura." He explained his encounter with the One-Mat Room and analyzed Takeshiro's life using multiple materials such as his travel journals and "Takeshiro Nehanzu (illustration of nirvana). During a panel discussion that followed, each speaker discussed Takeshiro from his own perspective as "a master of travels" and "an open-minded man who had respect for diversity."
Mr. Mei Yamamoto on the panel, curator of the Matsuura Takeshiro Memorial Museum, kindly gave me his book. I was deeply moved by the delicate set of maps of Hokkaido included in the book. Ino Tadataka and Mamiya Rinzo had already surveyed Hokkaido and drew a rough map of the island. With Ainu people, Takeshiro conducted six expeditions in about thirteen years to unravel the details of its inland. In addition to mountains and rivers, his maps which included Hokkaido, Kunashir and Iturup Islands showed as many as 9,800 Ainu place names. They were the fruit of the survey carried out in extremely rough conditions; in summer Takeshiro and his collaborators were bitten by mosquitos until these insects full of human blood became unable to fly and in winter it was impossible to speak with frozen lips. He allocated one piece for each longitude and latitude; a total of 26 pieces make a map of 2.4 meter in length and 3.6 meter in width. Individual names of about 270 Ainu people were also noted.
Those who watch for the morning in the Psalm 130, verse 6 that we just read protected a town or a caravan from unexpected enemy and dangerous beast all night without sleeping, a hard and painful job with ceaseless tension. It is perfectly understandable that they watched for the morning. They waited for the Lord more than those who watched for the morning because the Load was their only hope in the darkness.
Just like those who watched for the morning, Takeshiro was able to finish his survey despite every difficulty only because he never lost his will and hope to complete the map of Hokkaido. In 2019, waiting for the Lord, we also must accomplish our goal no matter how hard it may be without losing hope.
In closing, I have a message for those who did not have a chance to go to the special exhibit or attend the symposium. Takeshiro's bicentennial anniversary has not finished yet; please do visit the special exhibition of the ICU Archives "Be Ambitious - Matsuura Takeshiro and a Genealogy of Thinkers in the Meiji Period" that will be held until June 14.