Students' Voices
Find out what it's really like to study Japanese Languages Programs.
*Positions and years are those at the time of interview.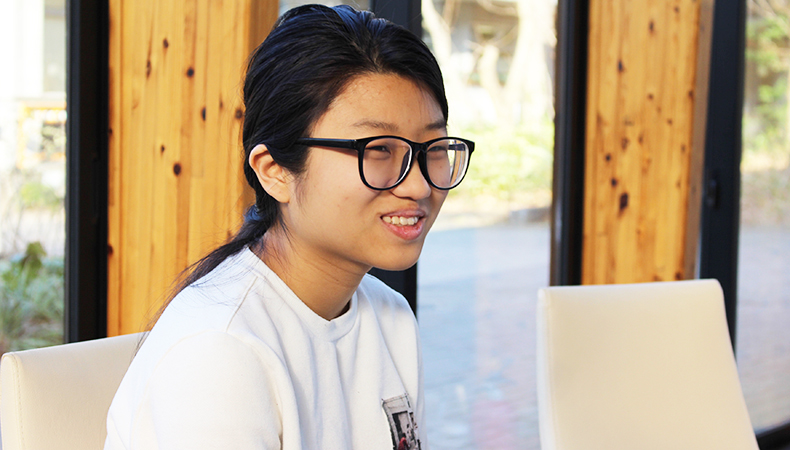 Kelly (Eunseo Jun)
High school: International School of Tanganyika (Dar es Salaam, Tanzania)
Year: First year
Class: Intensive Japanese Program C
Why did you choose to study in Japan, and particularly ICU?
Being born in South Korea, I have always had a familiar feeling toward and was interested in Japan. I was attending high school in Tanzania because of my parents' job. When I consulted my school counsellor that I wanted to study at a Japanese university, he recommended ICU to me. After that, I checked up about ICU myself and found that many of its graduates are working as members of international organizations, which was exactly what I wanted to do in my future. I thought it was a perfect university for me. Also attracted by ICU's liberal arts education, in which you can study various disciplines, I decided to enter ICU.
How do you like the Japanese Language Programs?
I only started studying Japanese during the summer vacation right before I entered ICU. So I only had about 2 months to study Japanese, mainly grammar, before I came to Japan. So at first, although I could somehow manage to comprehend what my JLP faculty was saying, I couldn't understand what the other students were saying because they spoke too fast for me. Over the past 2 terms, however, I am feeling that my Japanese is gradually improving, thanks to JLP.
JLP offers tutorial lessons (personal lessons), which is especially helpful because the tutor carefully points out each of the mistakes I make, and explains to me in detail about specific expressions and grammar. I can ask about very particular things that I would hesitate to ask my teacher during class. In class, we hold discussions on reading topics from the textbook and debates on topics that our classmates bring up. It was hard work for me to prepare for such discussions and to communicate my thoughts using only Japanese. In addition, we had to make a short speech of about 400 Japanese characters in front of the class once a week. I remember getting so nervous every time before my turn came.
I am advancing to J7 next term, and I intend to start taking some of the other courses given in Japanese. I'm also planning to learn German after Japanese.
Are you enjoying campus life at ICU?
I now live in Oak House, a student dormitory situated on campus. Notices related to dormitory rules and chores (such as cleaning) are delivered via LINE* written in Japanese, which helped me improve my ability for reading daily-use Japanese expressions. There are still a lot of things I don't understand, so every time I find an expression I don't understand, I look them up and try to remember them.
*LINE: Communication application
I feel very comfortable studying at ICU because the students are all open-minded and kind-hearted. I'm enjoying my life in Japan every day, sometimes going out for dinner with my dorm mates or visiting central Tokyo. Another good thing about ICU is that most students speak English, so if you have trouble making yourself understood in Japanese, you can always switch to English. It makes things much easier.
If you are interested in Japan, I strongly recommend you to come and study here. Particularly, if you are worried about living using only Japanese, ICU is the right place for you.
Zemlyanoy Kirill
High school: European Gymnasium (Moscow, Russia)
Year: First year
Class: Intensive Japanese Program C
Why did you choose to study in Japan, and particularly ICU?
During my time in high school, I decided that I want to learn a new language. Japanese seemed appropriate because at the time I was practicing Karate and Aikido. During my second year in high school, in order to familiarize myself with the language, I visited Japan for a month. During my stay, the structured life and sense of responsibility the Japanese had, as well as the safe environment of Japan, attracted me. When deciding which university to attend, I knew that studying in Russia would leave me dissatisfied. Considering that I was studying Japanese, I thought Japan would be a logical place to continue my studies.
When choosing which university to attend, I had two in mind, ICU and another university. I couldn't decide between these two. On one hand, I felt that studying business would help me achieve success in the future, but at the same time, I wasn't quite sure that the business life is one I would like to lead. In the end, I chose ICU because I liked the major system, which allows me to pick my major later in my studies, thus giving me time to experiment and think. Simultaneously, the small class sizes at ICU were a big plus. I never liked crowds.
How do you like the Japanese Language Programs?
Right now, I am taking the Intensive Japanese Program, which has 15 classes of Japanese a week. I am forced to live and breathe Japanese. Preparations for the class take a while: reviewing homework, learning new kanji, practicing pronunciation, etc... All in all, studying Japanese outside the classrooms takes me about 20 hours a week. Every week, we learn new kanji, which is tough since it's something quite exotic to me. Additionally, there's new grammar to learn and a lot of reading assignments to do. You can't read most of the literature without knowing a whole bunch of kanji, so I constantly have to look up their meaning as I encounter them. It really is painstaking, but at the same time, I feel this hard work is helping me steadily improve my Japanese language skills.
I completed the Intensive Japanese Program C this term, leaving only one more JLP course required for graduation. Next term I plan to take courses in philosophy and information science and earnestly consider which major to take when I advance to my third year. I think I'll be comfortable enough with my language skills around that time to take course revolving around my major in Japanese.
What's your impression on campus life at ICU and life in general in Japan?
Before entering ICU, I used to visualize university life in the usual stereotypical manner - pretty much the idealized version they show in the movies. ICU seems to wear that image well. Another reason, as to why I chose ICU, is that you can study a wide variety of academic fields from humanities and social sciences to chemistry, physics, and astronomy, all according to your interests. The campus has a very free and open atmosphere. It provides an environment where students can discuss their opinions both in and outside of class. I also like the environment surrounding the campus.
Unlike central Tokyo, which is a concrete jungle, Mitaka City (where ICU is located) is an aesthetically clean, safe town with a calm atmosphere. It suits me and is nice to live in. There are things that bother me but, they are usually just nitpicks. For instance, the relatively high prices on fruits and veggies and the way they are so very often packed into a predetermined amount.
Kazuki Go
High school: West Island School (Hong Kong)
Year: First year
Class: Special Japanese Program 3
Why did you choose ICU?
I lived in Hong Kong throughout the 18 years up until I graduated high school, so I wanted to attend a university abroad. Back in Hong Kong, I often used to read Japanese comic books and watch Japanese sports games. Eventually, I wanted to experience Japanese culture at first hand and harbored a desire to enjoy conversations on Japanese entertainment with friends. So I decided to enter a Japanese university. I considered several options other than ICU, mainly public and private universities placing emphasis on liberal arts education. I decided to choose ICU because it was a liberal arts college where I can study biology and other natural sciences in depth and that I didn't have to decide on my major upon entering the university. Other liberal arts colleges in Japan are rather centered on humanities and social sciences, but I wanted to study natural sciences, too. Therefore, ICU was the only choice that suited me.
How do you like the Japanese Language Programs?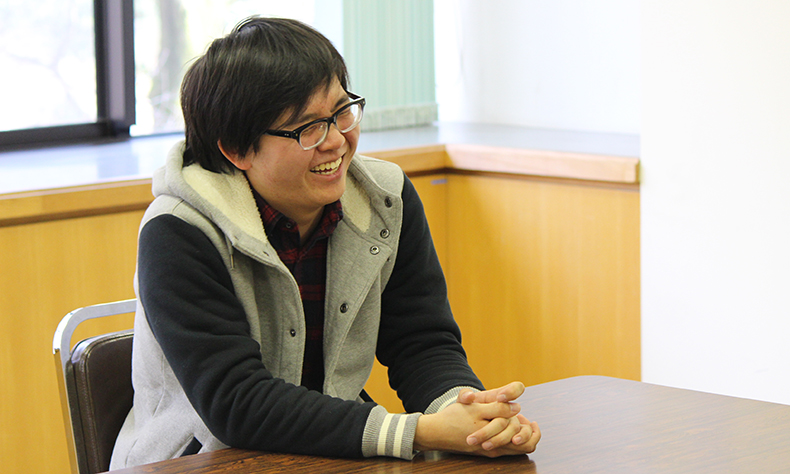 I belonged to "Special Japanese 3" in JLP, an advanced course for students whose native tongue is Japanese. The class being small and intimate, I was able to make friends easily in class and ask the teacher questions whenever I had something I didn't understand, so I quickly got used to class. As part of the class, we individually chose a book to write a report on. I chose a book on Japanese career education and wrote an essay of about 3,500 to 4,000 letters on "the significance of junior high and high school students going on an internship." In this way, I learned the skills for writing proper articles in Japanese and how to cite literature, which helped me gain confidence in my Japanese ability.
Is life at ICU fulfilling?
As I had lived in Hong Kong ever since I was very small, I became very fond of ICU's campus environment, so rich in nature although located in Tokyo. It's also very exciting because the students come from diverse backgrounds with many returnees from overseas and international students, just like I had imagined. I hope to try out various opportunities during my time at ICU.
Do you have a message for people who are interested in studying abroad at ICU?
With a selection of 31 majors, ICU offers a chance for you to learn in diverse fields according to your own interests. In addition, you don't have to make up your mind about which field to major in upon entering university, so you will have some time to gain experience and think about it. I strongly recommend ICU to those of you who cannot yet decide what you really want to study.
Fumika Matsuzaki
High school: Dubai American Academy (Dubai, UAE)
Year: First year
Class: Special Japanese Program 3, Kanji 3
Why did you choose ICU?
I was raised in the Middle East and Africa from elementary school until I graduated high school due to my father's job. I used to attend international schools while living abroad, so I only used Japanese for conversations with my family. I wanted to brush up my Japanese for my future. Going to a university in the U.S. was also an option I considered, but when thinking about scholarship and other financial factors, and about improving my Japanese, I decided to choose a Japanese university.
I felt familiar with ICU even while I was living abroad because one of my relatives was a graduate of ICU High School. So I've always had ICU in mind as a possible option. After I had decided to go to a Japanese college, I wavered between ICU and another college, but in the end, I chose ICU because it offered a wide variety of majors that I can choose from in the College of Liberal Arts.
How do you like the Japanese Language Programs?
I had 6 JLP classes and 1 tutorial session a week during the first term. In a class called "Special Japanese Core Course," we carried out research and made a presentation on topics including Japanese tourism, economy, and history to deepen our understanding of Japanese culture. In "Special Japanese 2," we read non-fiction paperbacks and philosophy books and then discussed the theme by dividing the class into those who agree and disagree with the author's opinion. We also did some research and wrote essays on specific themes. I had a complex about my Japanese before I entered ICU, but now I have pretty much overcome my complex. Among the things I learned in class, the methods and techniques specific to writing texts and messages in Japanese (that are different from writing English), are helping me a lot right now.
Is life at ICU fulfilling?
What I was most anxious about going to a Japanese college was whether I could adapt to the Japanese lifestyle and culture and get along using only Japanese. However, I soon found that ICU was like a small international community formed inside Japan. My anxiety soon resolved as I could use both English and Japanese to communicate with my friends. The campus environment is also very nice and relaxed, surrounded by rich nature, having an atmosphere somewhat like a university abroad. So it's a very comfortable environment for me. I now live in the Oak House, a student dormitory situated on campus. I gained new friends as soon as I entered ICU and there are also seniors to whom I can consult which courses to take. I am really enjoying my campus life.
Do you have a message for people who are interested in studying abroad at ICU?
If you have anxiety over studying in a Japanese college, I think you should participate in the ICU Open Campus to feel at first hand the international atmosphere of this university. Nobody gets uncomfortable even if you mix some English phrases in a Japanese conversation. It's a natural thing here. Many people are talking that way. If you want to live as a true bilingual, I think ICU is the right choice.
Cheung, King Ho (張景豪)
Exchange student (The University of Hong Kong: HKU)
Major: Music, Japanese (HKU)
Class: Japanese Program J6
Can you tell us why you chose to study in Japan and particularly ICU?
I've grown up watching Japanese animation films since I was a small child. I always wanted to understand them in Japanese, the original language. When I entered high school, there was a classmate who could speak Japanese, and the Japanese language became something more familiar to me. I also became interested in Japanese culture and began hoping to study in Japan after I enter college.
I chose ICU because my senior in HKU who had been on a study abroad to ICU recommended me ICU saying that "At ICU, you can communicate in English, so there's nothing to worry about even if you can't speak Japanese at first." Before I came to Japan, my Japanese vocabulary was small and I could understand only simple and short sentences. I was very much worried about living in Japan using Japanese as the only means of communication. On actually coming to ICU, however, I found that I needn't have worried, because I was able to communicate in English when I couldn't make myself understood in Japanese, just like I had heard from my senior.
How do you like the Japanese Language Programs?
I can now comprehend spoken Japanese questions and answer them in Japanese like this, thanks to the Japanese Language Programs (JLP). I now understand quite a lot of the various information in newspapers, movies, and signs I see in the streets.
I have class 3 days a week with 2 to 3 classes (1 class = 70 minutes) a day. In addition to class time, I spend about 2 hours every day reviewing and preparing for class. Of course it's not easy, but in this way, I can learn intensively. The classes are small in size with only about 10 students, so I can ask the faculty whenever there is something I'm not clear about and get feedback on the spot. There is also a weekly tutorial time (personal instruction for 15 minutes). Altogether it's a great environment for students who want to improve their Japanese skills. Next term, I might be able to step up to the J7* class. If I make it to J7, I want to try taking specialized courses taught in Japanese as the next step.
*Japanese Language Programs are offered in 8 levels from J1 to J8. The upper two levels of J7 and J8 are advanced classes.
Is life at ICU fulfilling?
I stay at an on-campus dormitory called "Global House". The best thing about this dormitory is that there are many students with different levels of Japanese communication skills. I speak in Japanese with those who have just about the same level of Japanese speaking ability as I do, and in English with students who are not so proficient in Japanese. That means that I can improve both my Japanese and English skills which are not my native tongue. It's a great learning environment. The most impressive experience during my stay so far was playing a leading role in a musical play held by the ICU Musical Theater Troupe. My dorm friend happened to hear that they were having an audition for the play and recommended me that I should give it a try. Somehow, I passed the audition, but I never dreamed that I would star in a musical play while studying in Japan. On the day of the performance, my friends in my JLP class, my teachers, my dorm mates and even my high school teacher from Hong Kong came to see the show. It was an experience I will never forget all my life.
Do you have a message for people who are interested in studying abroad at ICU?
If you come to ICU, you won't need to worry about not being able to speak in Japanese, because you can communicate in English. With 31 major fields and various courses offered in Japanese or English, you can choose from a wide variety of courses, according to your area of interest, which is another point very attractive to international students. I hope you too will spend a fulfilling time at ICU.